Trump calls for another invasion of Afghanistan
Trump calls for another invasion of Afghanistan
2021-08-31 01:28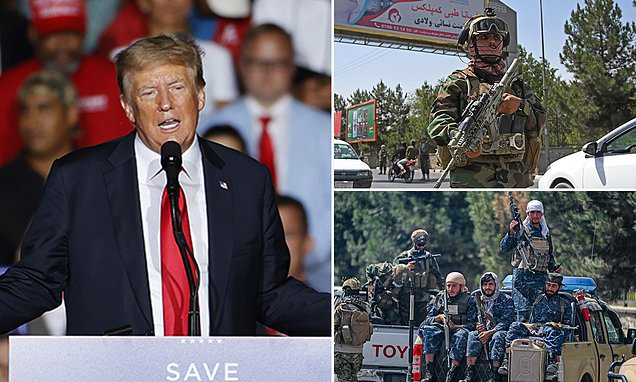 Shafaq News/ Former US President Donald Trump demanded, on Tuesday, to invade Afghanistan again and bomb the Taliban if the movement did not return American weapons and equipment.
Trump said the United States should respond with "military force" if the Taliban refused to return billions of dollars in military equipment.
Trump added: "Never in history has there been a withdrawal from a war as bad or incompetent as the Biden administration's withdrawal from Afghanistan, and in addition to the obvious, all equipment must be promptly demanded and returned to the United States," according to the newspaper, "thehill." American.
He continued, "If it is not returned, we must either enter with a military force to obtain it, or at least bomb its stores known to the American forces. No one thought that such stupidity (withdrawal) would have happened."
After the fall of Kabul to the Taliban, the movement seized US weapons estimated at $89 billion, including modern rifles, cars and planes, according to the newspaper.
The newspaper confirmed that the Afghan forces had 211 aircraft in their inventory that were provided by the United States.
"We don't have a complete picture of where the weapons have gone, but certainly a fair amount of it has fallen into the hands of the Taliban," Jake Sullivan, the White House's national security adviser, said in an interview.
Republican Representatives James Comer and Glenn Grothman, both members of the House Oversight and Reform Committee, sent a letter to Defense Secretary Lloyd Austin last week requesting information about the Pentagon's plans to recover these weapons.
"We have raised the question whether the Biden administration has a plan to prevent the Taliban from using our weapons against us or our allies, or selling them to foreign adversaries, such as China, Russia, Iran or North Korea," the lawmakers wrote.
shafaq.com