A "joke" threatens the political future of the Republican leader in the US House of Representatives
A "joke" threatens the political future of the Republican leader in the US House of Representatives
2021-08-02 21:57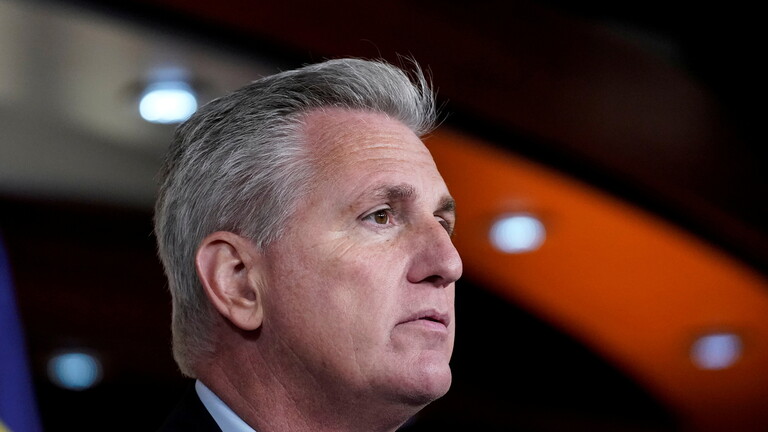 Shafaq News/ The Republican leader in the US House of Representatives, Kevin McCarthy, found himself required to apologize or even resign, after he jokingly expressed his desire to hit the Democratic Speaker of the House Nancy Pelosi.
During a fundraising event in the US state of Tennessee, last Saturday, McCarthy received a gift that is a hammer, in reference to the tool used by the Speaker of the House of Representatives.
This gift expresses Republican hope of winning the 2022 midterm elections. If they win, McCarthy will replace Pelosi.
"I want you to see when Nancy Pelosi gives me this gavel (…) it will be hard not to hit her with it," McCarthy was quoted by the Washington Post as saying, adding that he would, in fact, refrain from it.
Representative Ted Liu, a Democrat, responded on Twitter: "Don't you think the US" has seen "enough of similar political violence?" "You have to apologize or resign," he added.
Michigan Democratic Representative Debbie Dingell called for an apology, writing on Twitter: "It's this kind of statement that caused violence and death on the Capitol," referring to the Jan. 6 attack on the Capitol by supporters of former President Donald Trump.
And the turbulent relationship between Pelosi and McCarthy, who was recently described by the Speaker of the House of Representatives as an "idiot" because of his opposition to the issue of wearing masks in light of the resurgence of the rise in Corona infections.
shafaq.com