Iraq has become more open to the world, away from the "policy of axes"
Iraq has become more open to the world, away from the "policy of axes"
11-23-2022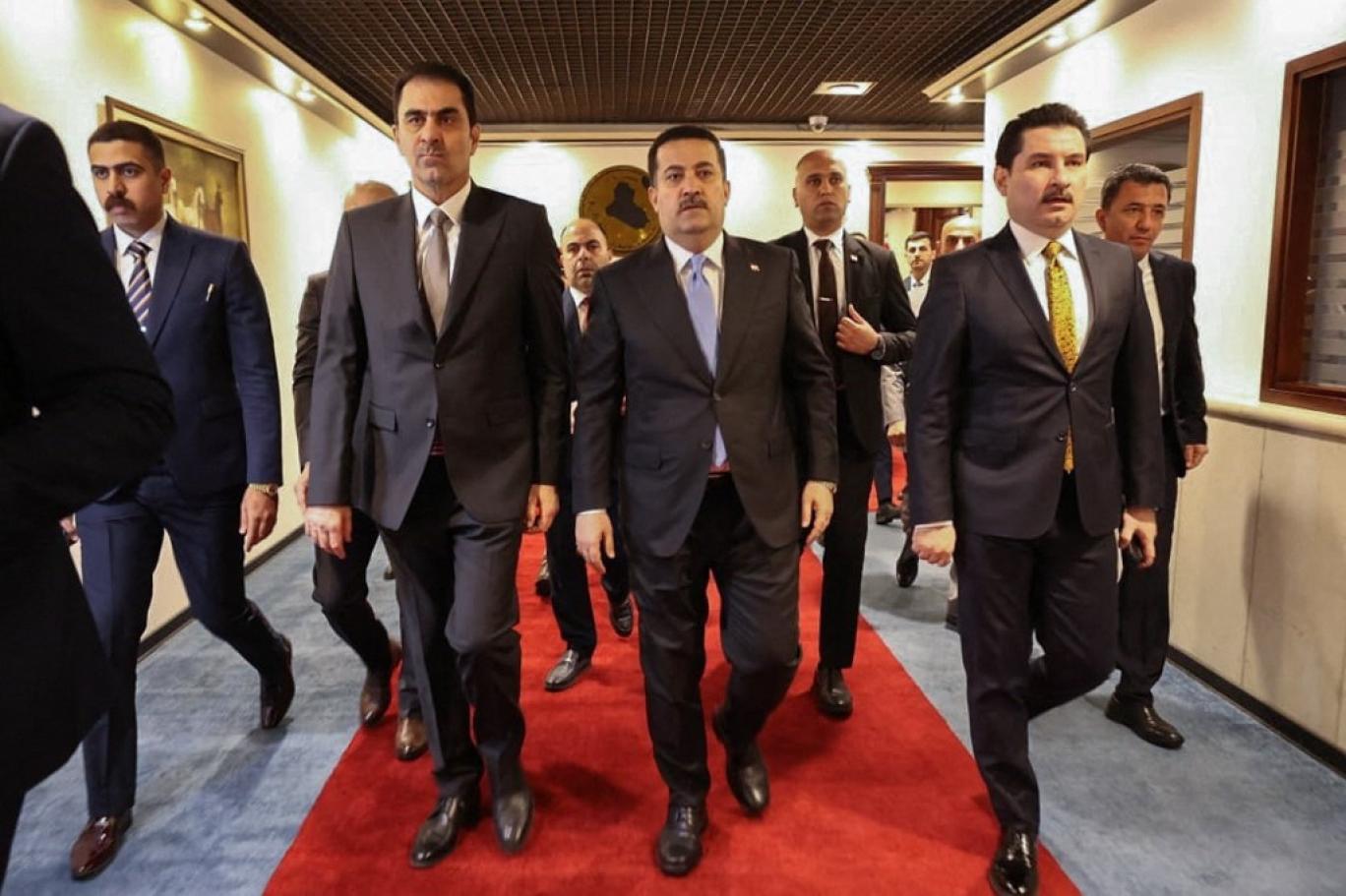 Today , Iraq plays a major role in regional and international issues, as it succeeded in strengthening them to serve its common interests, develop its political and economic relations, move away from the policy of axes, and build balanced external relations with its Arab, regional and international environment.
And the Iraqi Prime Minister, Muhammad Shia Al- Sudani, has previously pledged to strengthen his country's foreign relations on the basis of the principle of mutual respect and common interests, and not to engage in the politics of axes.
Al-Sudani stated in his government's curriculum that "the program includes 23 axes, the most prominent of which is strengthening Iraq's relations with countries on the basis of the principle of mutual respect and common interests, especially with neighboring countries, the Gulf Cooperation Council countries and Arab countries, and not allowing Iraq to be a corridor or a headquarters for aggression against other countries and demand from countries other reciprocity."
Al-Sudani pledged not to enter into the policy of axes, to follow the policy of friendship and cooperation with everyone, and to solve problems between the federal government and the Kurdistan government in accordance with the Iraqi constitution, especially with regard to the oil and gas law.
On the other hand, Deputy Prime Minister and Minister of Foreign Affairs Fuad Hussein stressed that Iraqi lands should not be used as a headquarters or passage to threaten the security of neighboring countries, stressing the importance of relying on dialogue and its sustainability to face challenges, especially security ones, in a way that preserves Iraq's sovereignty and enhances the security and stability of the region.
During his meeting with an American delegation on the sidelines of the "Manama Dialogue" meetings, Hussein affirmed that Iraq is moving towards openness to all countries, specifically the countries of the Gulf Cooperation Council, and the conclusion of balanced relations based on achieving common interests, preserving sovereignty and non-interference in internal affairs, adding, "There are mutual meetings and visits." And we invited them to attend the Baghdad Conference for Cooperation and Partnership in its second edition, which is to be held in Amman.
clear imprint
However, Iraqi researcher Saleh Lafta stressed that it must be noted that the government of Mustafa Al-Kadhimi had a clear imprint in developing Iraq's foreign relations with neighboring countries and various countries of the world, moving away from the state of internal retreat and strengthening the country's position as a neutral and reliable party to play the role of mediator in some files and bring points of view closer. between the rival regional parties and mitigating the apparent differences, as happened between Iran and Saudi Arabia, and the rounds of negotiations hosted by Baghdad between the two countries.
Lafta considered that "this success achieved by the previous government placed an additional responsibility on the government of Muhammad Shia'a al-Sudani in preserving and developing those successful foreign relations in what contributes to the stability of Iraq, especially the neighboring countries, influential regional countries, and great powers that have a direct impact on the security, stability and economy of the country, such as the states." the United Nations, and investing broad international support and support in improving economic conditions.
He explained that "moving away from the policy of axes and building balanced and good external relations with everyone and distancing from convulsive statements, while giving certain countries priority in deepening relations in a way that reflects positively on all files and contributes to increasing stability, while recalling that good external relations do not mean compromising the rights of Iraq." And its wealth is at the expense of the interests of others. Indeed, the main goal of any diplomatic endeavor is to preserve Iraq's interests, such as oil, water and borders files.
Political researcher Ali al-Baydar also believes that "the country's geopolitical location has made it a crossroads of crises, ideologies, major empires, and regional powers seeking to restore former glories at the expense of those around them, especially troubled countries."
He stressed that "Iraq as a state has not stabilized as a result of internal and external conflicts, which made its position weak, as its external moves were based on action and reaction without any real initiatives capable of adopting Iraq as a position in its interest or building the country's relationship with others on the basis of mutual respect." And good neighborliness, as this relationship has always been from top to bottom, whether in the interest of Iraq or against it.
Towards a new Iraq
Al-Baider believes that "Iraq today is unable to adopt bold decisions in the field of imposing a new reality on regional positions related to its interests, so how about those international ones," stressing that "the Iraqi arena today represents an arena for settling international and regional scores amid the absence of a role that favors the interest of the state over calculating the interests of those countries."
He points to "the absence of statesmen within the political system and the presence of representatives of narrow factional components that do not build states as much as they seek to obtain private gains."
For his part, political researcher Nabil Jabbar Al-Tamimi acknowledged that "the current government, led by the Shiite framework, learned from the lesson of political closure on regional countries and benefited from the experience of the previous government (Al-Kazemi's government) in its dealings with Iraq's foreign policy, which was its most prominent feature and most successful policy after decades of political closure." Or the limited dealings with the regional environment, especially the Arab environment of Iraq, which was dealt with with excessive sensitivity.
Al-Tamimi added, "This matter was practically reflected in the steps of the current government, as Al-Sudani's visit to Jordan was the first stop in his regional visits since he took over the government weeks ago, followed by upcoming visits to Kuwait, Egypt, and then France, and these visits undoubtedly complement Al-Kazemi's visits to those countries. In the coming months, we may look forward to other tours of government officials to countries in the Persian Gulf such as Saudi Arabia, the Emirates and Qatar, and countries in Europe and perhaps the United States.
Al-Tamimi said, "The government is trying, through these upcoming visits, to deliver a set of messages to regional and international countries that it is still active and representative of political blocs and parties, after the recent period was marred by a lot of media distortion and distortion of several parties in Iraq, and many questioned their permanence in power, as it may aim The visits are to review the files that were signed by the previous government, make amendments to them, and make a set of corrections that the current government deems necessary.
rawabetcenter.com