Nechirvan Barzani is discussing with al-Maliki a solution to the differences between Baghdad and Erbil
Nechirvan Barzani is discussing with al-Maliki a solution to the differences between Baghdad and Erbil
2022-11-22 06:28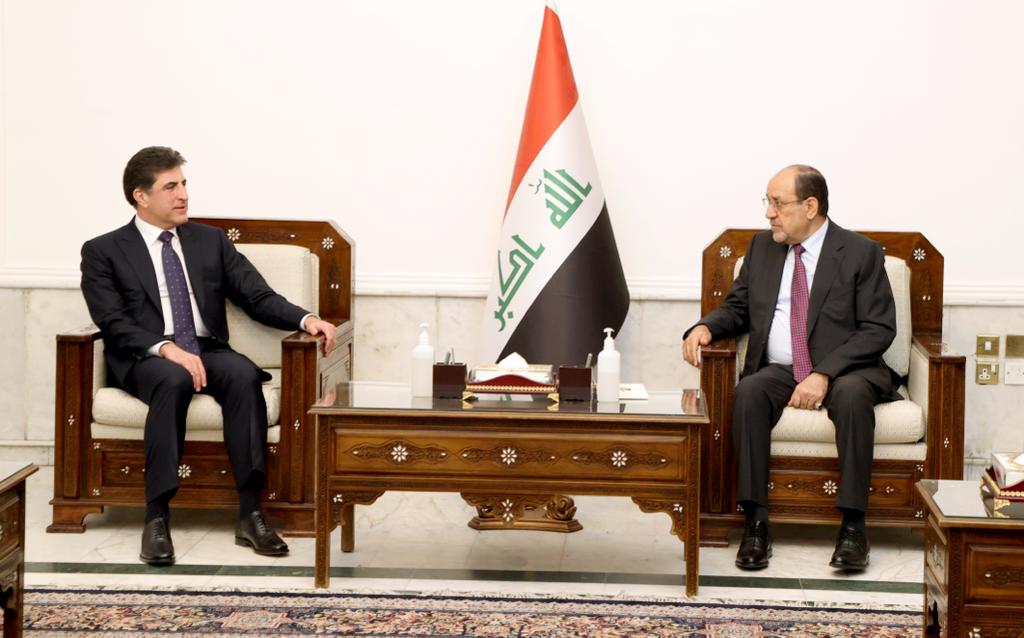 Shafaq News/ The President of the Kurdistan Region, Mr. Nechirvan Barzani, discussed this Tuesday afternoon, in Baghdad, with the leader of the State of Law Coalition, Mr. Nuri al-Maliki, "shared responsibility" and resolving disputes between the region and the federal government.
A statement by the Presidency of the Kurdistan Region, received by Shafaq News Agency, stated; The two sides stressed during their meeting the need for all parties and political forces to unite and stand together to support the new federal government in implementing its ministerial platform, which would be in the interest of all Iraqi parties and components by finding solutions to the economic and service problems that Iraq suffers from, especially since all the people of Iraq The Kurdistan Region expects a lot from the new Iraqi federal government.
The statement added; The two sides stressed the focus on joint responsibility and resolving the Erbil-Baghdad disputes and working to solve the outstanding problems between them through dialogue and the adoption of the constitution. Another aspect of the meeting was occupied, in which the visions of the two sides agreed on the need for joint action to resolve these differences and problems, which would enhance the security and stability of Iraq. From all aspects.
The statement added that the president of the region and the head of the State of Law coalition stressed the sovereignty of Iraqi lands and the need to protect and adhere to them. This represented an aspect of the meeting, in which they discussed the importance of joint cooperation between all Iraqi forces, parties and components in this field.
The President of the Kurdistan Region, Nechirvan Barzani, is visiting Baghdad to discuss many outstanding issues between Erbil and Baghdad and to find solutions in accordance with the constitution for these common files.
shafaq.com