Barzani and Allawi agree to support the Sudanese government
Barzani and Allawi agree to support the Sudanese government
2022-10-27 06:35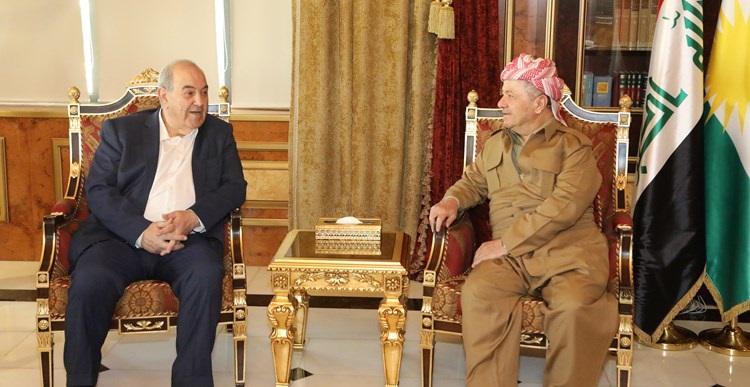 Shafaq News/ The Kurdish leader, Masoud Barzani, and the head of the National Coalition, Iyad Allawi, agreed on Thursday to support the government of Prime Minister-designate Muhammad Shia Al-Sudani.
This came during Barzani's reception to Allawi at the Salah al-Din resort in the city of Erbil, the capital of the Kurdistan Region, according to a statement received by Shafaq News Agency.
During the meeting, they talked about a number of important files on the local scene, foremost of which is the formation of the government and its upcoming tasks.
The two sides agreed, according to the statement, to "support Muhammad Shia Al-Sudani by forming an Iraqi government that meets the aspirations of the people, the first task of which is to fight corruption and spoilers, eliminate political sectarianism and quotas, resolve differences between Baghdad and Erbil, form a committee of wise men, as well as prepare for early elections with a new law and election commission." .
The meeting also discussed the repeated attacks from time to time on separate areas of the region, where Allawi stressed that the recurrence of these attacks affects and threatens the sovereignty of Iraq, calling for all measures to be taken to prevent their recurrence.
shafaq.com