The intensification of the conflict over 5 ministries delays the formation of the Sudanese government
The intensification of the conflict over 5 ministries delays the formation of the Sudanese government
2022-10-22 02:48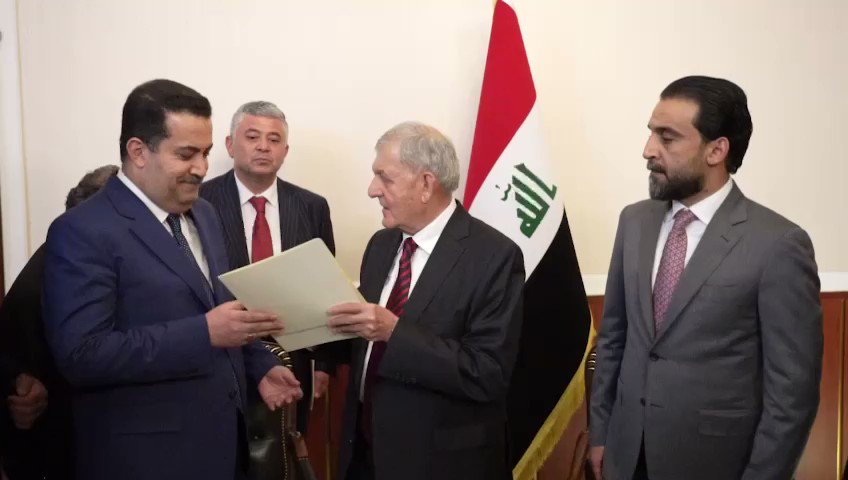 Shafaq News / The Wisdom Movement, led by Ammar al-Hakim, which is part of the coordination framework, revealed on Saturday the reason for delaying the formation of the new government, headed by Muhammad Shiaa al-Sudani.
The leader in the movement, Rahim Al-Aboudi, told Shafak News Agency, "The reason for delaying the formation of the new government, headed by Muhammad Shia Al-Sudani, is the existence of internal conflict and disagreement between the political blocs, and this includes all blocs and parties."
He explained, "The conflict focuses on the sovereign ministries such as (the interior, defense, foreign affairs, finance, oil," noting that "the dispute over these ministerial portfolios still exists."
The leader of the Al-Hikma Movement stressed, "The dialogues and negotiations will continue in order to hold a session of the Iraqi parliament this week to give confidence to Muhammad Shia Al-Sudani and his government."
The House of Representatives intends to hold a special session to pass the ministerial cabinet for the person in charge of forming the government, Muhammad Shia Al-Sudani, in the middle of next week.
The comprehensive coordinating framework of the Shiite forces, with the exception of the Sadrist movement, announced, yesterday evening, Thursday, the authorization of the prime minister, Muhammad Shiaa Al-Sudani, to choose candidates to fill the ministries according to his criteria and to propose alternative candidates, while stressing the exclusion of the ministries of defense and interior from political quotas.
Shafak News Agency has learned that there are differences over some ministerial portfolios, as well as pressure exerted on Al-Sudani in this regard, which led to the exclusion of the inclusion of the voting file on the cabinet in a session scheduled to be held next Saturday.
shafaq.com