The coordination framework reveals the first obstacles of the Sudanese in forming his government
The coordination framework reveals the first obstacles of the Sudanese in forming his government
2022-10-19 00:39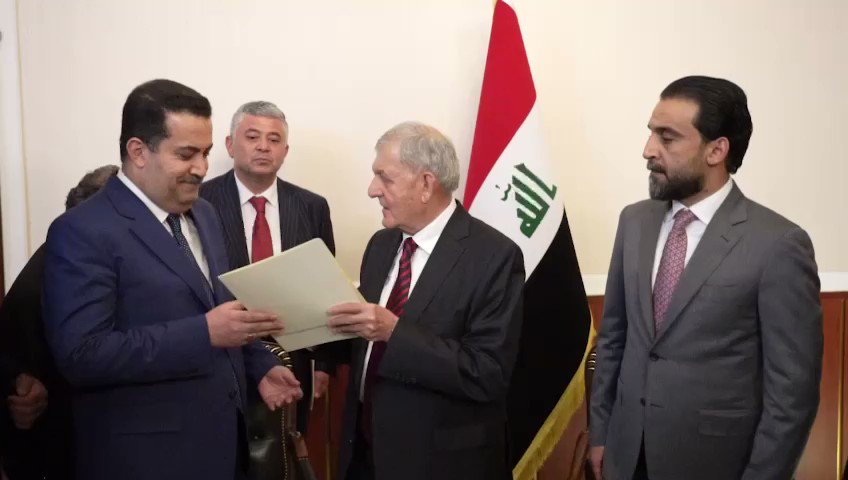 Shafaq News/ The coordinating framework, which brings together the Shiite political forces, revealed today, Wednesday, that the Prime Minister-designate, Muhammad Shia Al-Sudani, was subjected to pressure to impose some candidates on him for ministerial portfolios.
The leader in the framework, Mahmoud Al-Hayani, told Shafaq News Agency, "There are political parties that are putting pressure on the Prime Minister-designate, Muhammad Shiaa Al-Sudani, in order to impose some names on him to be a candidate to take over some ministerial portfolios."
And Al-Hayani indicated that "the Prime Minister-designate, Muhammad Shia'a Al-Sudani, rejects these pressures, and he sets conditions and the mechanism for selecting candidates for his cabinet and refuses, and he is still engaged in dialogues with the blocs to resolve the selection of members of his expected government."
The Prime Minister-designate, Muhammad Shia Al-Sudani, is preparing to present his cabinet formation to the Iraqi parliament, after he has finished drawing the outlines of ministerial quotas with the participating political forces.
A leader in the coordinating framework told Shafaq News Agency, that the government lineup will consist of 22 ministries, and so far, 14 ministers have been named, provided that the rest of the portfolios will be completed with the political forces, in order to present them to the House of Representatives in the coming days to obtain its confidence and form his new government.
He added that the ministerial portfolios were distributed according to electoral maturity and political representation in the House of Representatives, where the Shiite component represented by the coordination framework will get 12 ministries, which are (interior, oil, finance, electricity, health, higher education, agriculture, transportation, and labor). and Social Affairs, Sports and Youth, Water Resources, Communications).
He added, while the share of the Sunni component will be six ministries, which are (defense, planning, education, industry, commerce, and culture), and the Kurdish component will get 4 ministries, which are each of (foreign, justice, housing). age, and environment).
He pointed out that three non-sovereign ministries from the government line-up will go to independents, Christians and Turkmen.
It is expected that the Sudanese government will pass in the House of Representatives without any obstacles, in the absence of the 73 Sadrist bloc deputies who announced their resignation from the parliament on June 12.
However, this government is expected to face thorny economic, political and security challenges.
shafaq.com