Barzani, Al-Halbousi and Al-Khanjar affirm the formation of a government with full powers and the continuation of the parliament's work
Barzani, Al-Halbousi and Al-Khanjar affirm the formation of a government with full powers and the continuation of the parliament's work
2022-09-11 05:40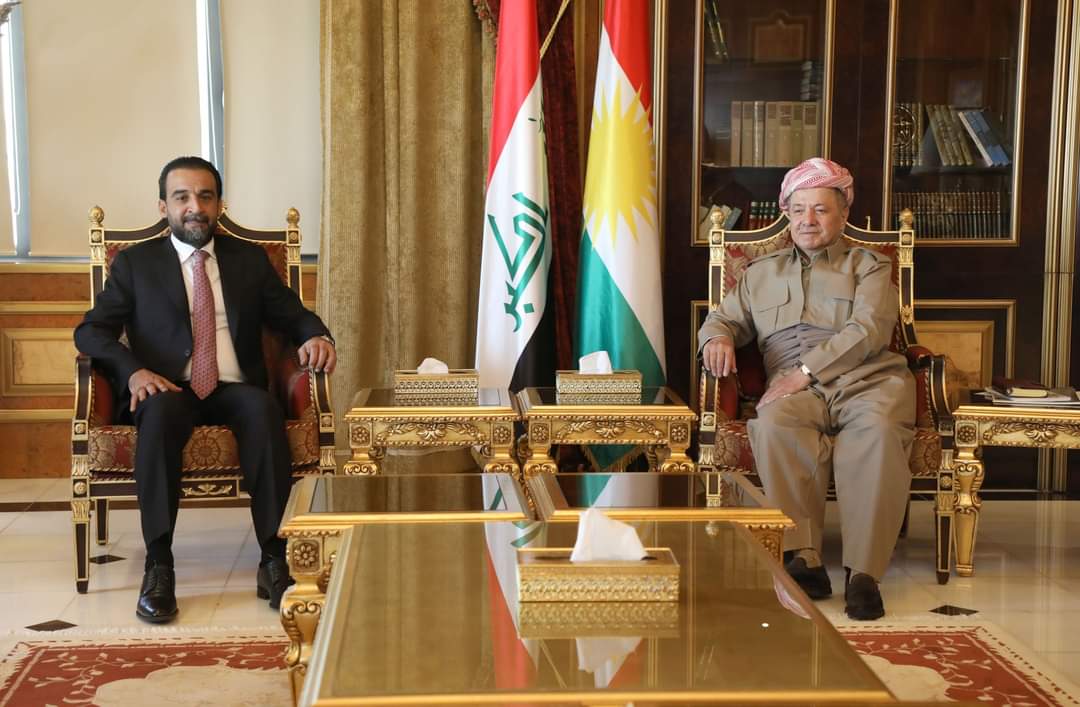 Shafaq News/ Kurdish leader Masoud Barzani discussed on Sunday with Muhammad al-Halbousi, Speaker of the Iraqi Parliament, and Khamis al-Khanjar, head of the Sovereignty Alliance, the developments of the political situation in Iraq.
A statement by Barzani's headquarters, received by Shafak News Agency, stated; The two sides reviewed the political situation in Iraq and its negative repercussions on the country, and the need to adopt the language of constructive dialogue to overcome differences and reach solutions in the interest of the Iraqi people and to follow constitutional and legal methods to overcome the repercussions of the current stage.
The statement added that the two parties stressed the importance of holding early elections after preparing the legal requirements and their requirements in accordance with the constitutional mechanisms, preceded by the formation of a government that enjoys full authority and enjoys the confidence and reassurance of everyone with an agreed government program, emphasizing the need for the House of Representatives to continue its work until the election date.
The two sides expressed their readiness to contribute constructively to the convergence of views between all parties and their readiness to adopt any step that serves the national interest, contributes to social peace and preserves the security and interests of citizens.
The Sovereignty Alliance and the Kurdistan Democratic Party also stressed the continuation of communication and joint coordination and the adoption of common positions that serve the higher national interests, according to the statement.
The so-called "Minister Leader" Saleh Muhammad al-Iraqi, who is close to the leader of the Sadrist movement, Muqtada al-Sadr, had said earlier today, in a post on social media, "We are aware of the many pressures on our allies, but sacrifice in order to end the suffering of an entire people is also a matter." Mahmoud and required, as the people, not the current, are the ones who refuse to rotate faces and re-manufacture a corrupt government again," noting that "the ball is in the allies' court, not in the court of the Sadrist bloc."
And he continued in his post, "The dissolution of Parliament is possible without the return of the Sadrist bloc, especially with the presence of its allies in the House of Representatives and some independents who are on the hill so far, so I call on allies and independents to take a brave stance that ends the entire crisis, and the solution will not be current, but rather the dissolution of Parliament will be Sunni and Shiite national." Kurdish and independents, so that the President and the Prime Minister remain at the head of a caretaker government and to supervise early elections or with the help of others, Iraqis or internationals.
And the Federal Supreme Court announced the rejection of the case for dissolving the Iraqi Council of Representatives because the matter is not within its jurisdiction, but rather within the jurisdiction of the Council of Representatives itself or the presidents of the republic and the government.
shafaq.com