Al-Sadr defends Al-Kazemi: They want a government to sell the rest of Iraq
Al-Sadr defends Al-Kazemi: They want a government to sell the rest of Iraq
8-26-2022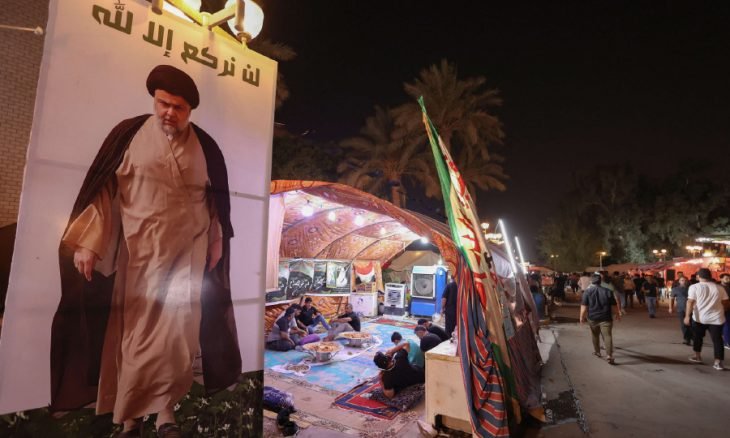 Yesterday, Thursday, Saleh Al-Iraqi, who is close to the leader of the Sadrist movement, Muqtada Al-Sadr, defended the Iraqi Prime Minister, Mustafa Al-Kazemi, and while noting that the latter is being subjected to a "threat and intimidation," he warned against efforts to form the new government to "complete the sale of the remaining money." Iraq" and plundered its wealth, according to his description.
The politician, who is also known as the "minister of the leader", stated in a post on social media platforms, that "Parliament did not fulfill its oath, and was unable to carry out its tasks, and there are deputies, between a partisan who only wants the interest of his party or sect, and (independent) almost He will be (exploited), and a prime minister who they describe as the conduct of business, and many threats and threats against him and without a balance with which he can carry out his duties.
He added: "Ministers are between corrupt and helpless. There is no security, no balanced diplomatic relations, no independence, no health, no education, no agriculture, no industry, no work."
He continued: "No unemployment, no roads, no bridges, no aviation, no justice, and drought and drought that hit the country," just as "the President of the Republic has been stripped of powers."
He pointed out that "the judiciary neglected corruption out of fear or greed, overlooked evidence and audio and video leaks, and arrested a boy for stealing (paper tissues). What can be hoped for from a law that applies to the young and the poor, and does not apply to the corrupt, the subordinate and the militia?"
He pointed out that "a constitution was drafted by a group that is not specialized in the law, and they sewed it according to their size, changing it with the help of the judiciary when it does not correspond to their desires." It is abhorrent, and neither reform nor reform is expected from it, and it has not and will not take the initiative to hold its adherents to account at all."
And he continued: "These are the elements of power, so how do you want the people to respect it? And where is the prestige of the state that has been violated by corruption, crime, drugs, uncontrolled weapons, epidemic, external interference, etc., and so on. Why do you resent the demand for reform and for how long?"
He added: "Yes, they despise him because they want to form a government in order to complete the sale of what is left of Iraq, and to plunder what remains of its wealth and bounties, and to subjugate those who have not submitted to them until now."
And he concluded by saying: "Yes, whatever you are, He will take care of you, and God does not change what (people) unless they ask to change their bitter reality."
This comes at a time when a close associate of the Sadrist movement, Halim al-Fatlawi, called yesterday for the deportation of "dependency" from Iraq.
In his "blog", he said, "We demand an end to corruption and dependency, and the return of politicians with dual citizenship to their countries, and if they are advocates of reform, let them raise their slogans in them."
The dissolution of Parliament
In parallel, the Federal Court set, August 30, as the date for a session to consider the case submitted by the Sadrist movement to dissolve Parliament.
A brief statement by the court, received by the Iraqi News Agency (INA), said that it had "decided to consider the lawsuit submitted by the plaintiff, Nassar Zughayer Al-Rubaie, Secretary-General of the Sadrist bloc, on August 30th."
He added that the subject matter of the case included the ruling to dissolve Parliament and oblige the President of the Republic to set a date for holding legislative elections in accordance with the provisions of Article 64 of the Constitution.
On August 14, the Supreme Judicial Council announced that it did not have the power to dissolve the parliament, in response to al-Sadr's request to dissolve the parliament within a period not exceeding a week and to set a date for early elections. This announcement prompted the current to file a lawsuit through its Secretary General Al-Rubaie, pending a decision.
initiative
In the same context, the head of the Center for Political Thinking, Ihsan Al-Shammari, suggested the formulation of an initiative to bridge the views of the political parties, based on the meeting of the four presidencies, which was held the day before yesterday.
He said that "the outcomes of the meeting of the four presidencies are encouraging," noting that "there is a national responsibility, on the part of the four presidencies, towards resolving the current political crisis, and that their neutral position may push for the formulation of an initiative to bring together the views of the political forces," according to the official agency.
Regarding the second round of the national dialogue, he said, "It depends on the outcomes," noting that "the Sadrist movement may not be present in the second round."
He considered that "the recent events require the political forces to return to their accounts," noting that "we can witness a political breakthrough, if the political forces that will meet show an initiative or accept the average limit of the requirements of the Sadrist movement, and thus we will mark a moment of rapprochement between the opposing parties, and without that nations may interfere. United".
He continued, "The national dialogue initiative, under the auspices of the Prime Minister and with the support of the President of the Republic, will be the penultimate initiative, and the matter depends on the outcomes."
According to Al-Shamri, "The United Nations, tried to bring the views closer, and participated in the first table, which Al-Kazemi called for, and in the event that there is no breakthrough, the role of the United Nations will be the last option as an initiative, and here we are not talking about international intervention, but there may be a presentation of a map A path satisfactory to all parties.
The deepening political crisis in Iraq is met with calls for calm and dialogue, and the priority of the country's higher interests over the rest of the interests.
Haider al-Abadi, head of the "Victory" coalition, said that the political crisis in Iraq threatens the political system and state institutions.
He said, in a statement, "Our national state is living today, a serious and new crisis produced by the elections of last October, and the resulting political blockage that developed into a contradiction between the political parties, threatening its political system and the flow of the state's action and its institutions in the service of citizens, which necessitates concerted efforts All to get out of the crisis in order to preserve the people and the state."
roadmap
He added: "What is required today is calm, dialogue and agreement on an acceptable and legitimate road map that ends the crisis, on the basis of considering the current stage as a stage that establishes a new constitutional stage, adopting reform and change in the body of the system and the performance of its institutions, to ensure the validity and effectiveness of the system led by the state and serving the people, and preparing for new fair elections." With wide participation in order to express the will of the citizens."
The former Iraqi Prime Minister commented his hope for "the wisdom and responsibility of the faithful to find a national solution that preserves the state, its system and its people from slips and disasters."
The political initiatives and dialogues did not bear fruit in resolving the crisis, as they did not include the participation of the Sadrist movement, which insists on its demands to dissolve parliament and hold new elections.
Meanwhile, the Kurdistan Democratic Party, led by Massoud Barzani, set a condition in return for participating in political dialogues to get out of the current crisis.
Arafat Karam, the party's official in charge of the Iraqi file, said in his "blog": "We are with the dialogues, the condition of the presence of all the main parties."
In parallel, Minister of Interior Othman Al-Ghanimi and the head of the Kurdistan Regional Representative in Baghdad, Faris Issa, discussed, during his visit to the Federal Ministry of Interior, "efforts to calm the political situation and resolve differences."
According to Issa's media office, "in the meeting, light was shed on the blockage in the political process, and the repercussions of the demonstrations by supporters of political forces on civil peace, security and stability in the country in general."
The two sides also stressed the need for concerted efforts to calm the political situation and resolve differences, to prepare the ground for forming a new government that would take upon itself the consolidation, security and stability, as well as preserving the lives of citizens and government institutions.
Issa stressed, according to the statement, "that the leadership in the Kurdistan region is closely monitoring the current exceptional situation and believes that understanding, dialogue and adherence to the law and the constitution is the only way to rid Iraq of the fears arising from the recent developments."
The "Kurdistan Democratic Party" and the Sunni "Sovereignty" alliance are linked with the Sadrist movement, "Save the Homeland / the Triple Alliance", while other Shiite political forces join the "Coordination Framework" alliance with the Patriotic Union of Kurdistan and the "Azm" bloc. Sunni.
The tense political situation in Iraq also prompted the European Union to express a position in which it expressed Iraq's need for "a government with a constitutional and popular mandate."
The European Union's official spokesman for foreign affairs and security policy said in a statement, "The obstruction of the work of critical state institutions in Iraq, due to the continuing protests in Baghdad, is a matter of concern."
He added that "the right to peaceful protest is necessary for democracy," stressing that "all laws and state institutions work to serve the Iraqi people."
He continued: "The European Union emphasizes that judicial institutions must be able to perform their functions without external pressures."
He noted, "The European Union welcomes the recent steps that have been taken to calm the situation," and urges all parties to "resolve any differences through political dialogue and within the constitutional framework."
He stressed that "Iraq needs a government with a constitutional mandate to face the many challenges it faces, and this is also necessary to cooperate with the international community."
rawabetcenter.com