Is the dissolution of the Iraqi parliament the only way out of the crisis?
Is the dissolution of the Iraqi parliament the only way out of the crisis?
8-14-2022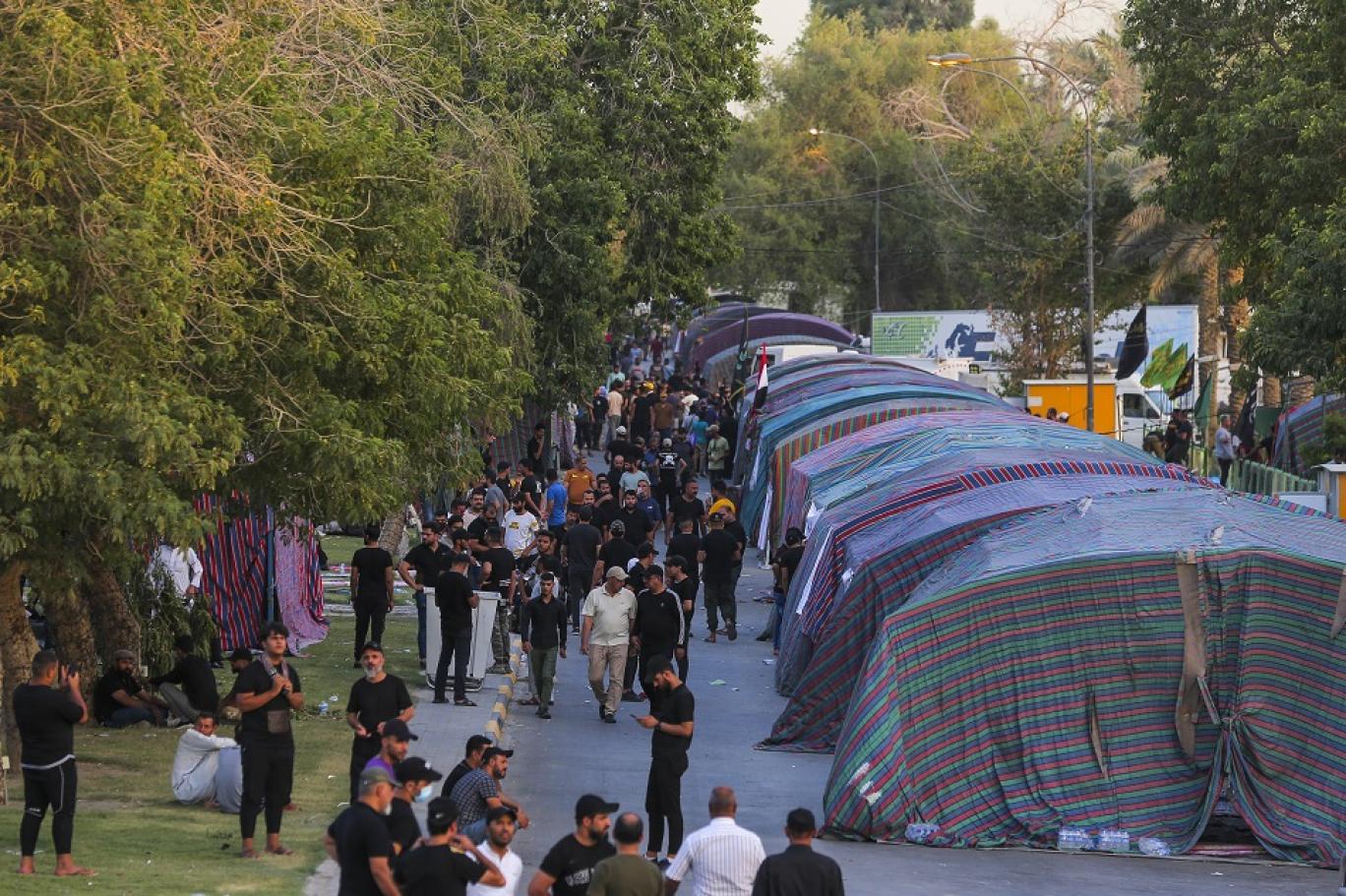 The dissolution of the Iraqi parliament has become the only way for Iraq to get out of its stifling crisis, which has begun to turn into a major political conflict that threatens armed confrontations between the two parties to the conflict, the "Sadr movement " and the "coordinating framework," which have armed factions and large numbers of fighters.
These fears seem to have leaked to most Kurdish leaders, most notably the head of the Kurdistan Democratic Party, Massoud Barzani, who called for dialogue to resolve the current political crisis, alluding to the approval of early parliamentary elections after the Iraqi political forces agreed on how to organize them and ensure their integrity.
There is no alternative
Barzani's position was the closest to prominent Sunni leaders, such as Iraqi Parliament Speaker Muhammad al-Halbousi, who stressed the organization of early elections, but according to the constitution and the law in a way that guarantees a political consensus to hold them without major objections.
Sarwa Abdel Wahed, head of the "New Generation" bloc, the most prominent opposition bloc in the Kurdistan region, also called for "a meeting in Baghdad that includes the heads of all the parliamentary blocs that won the elections and in the presence of the United Nations, to take the necessary steps to dissolve parliament and develop a road map for the pre-election phase and its preparations." ".
Constitutional Path
Although there is support within the "coordinating framework" itself for holding early elections, some of its parties have a view that differs from al-Sadr's, including the necessity of holding a parliament session, choosing a president and a prime minister, and then setting a date for new elections after forming the government, which they called The designation of the "constitutional path".
The leader of the "State of Law" coalition, Nuri al-Maliki, said that "the coordination framework demonstrations sent a message to all political components represented in respecting the constitutional and legal track in Iraq before taking any steps regarding the current parliament," while noting that "it cannot take over the street by one party without the other." ".
The only solution
Ghazi Faisal, director of the Iraq Center for Strategic Studies, said that "dissolving parliament is the only solution in the current period to form a new political map," while referring to "the authority of the Federal Court to dissolve parliament because the formation of the government exceeded the constitutional terms."
Faisal said, "It is certain that the dissolution of Parliament has become the only solution for the current period, which represents a political crisis, a constitutional vacuum, conflicts and sharp contradictions between the parties to the political process, especially the coordination framework and the Sadrist movement, as well as the contradictions and challenges facing the return of consensus between the coordination framework and the Kurdistan Democratic Party and the deep differences over Article 140, the oil and gas law, the issue of zero crises, the dissolution of militias, balance and consensus, which were put forward as a basis for forming the government by Massoud Barzani, noting that "this matter is also reflected in the important demands of the Sovereignty Alliance related to the Jurf al-Sakhar region, the withdrawal of militias from the liberated areas, and the fair balance in the distribution of wealth." And the issue of prisoners, detainees and the disappeared."
deep crisis
Faisal considered that "the deep crisis today will not lead to any breakthrough unless Parliament is dissolved and the political map reconfigured so that the next majority that can appear in the elections will be able to participate, provided that the majority of boycotters participate in the previous elections if the United Nations guarantees its integrity."
Faisal continued, "The available frameworks for dissolving Parliament are represented in its failure 10 months ago to elect the president of the republic and assign a prime minister, which was deliberately done by the coordination framework," noting that "this failure came despite the ability of the Sadrist movement, the Alliance of Sovereignty and the Kurdistan Democratic Party to provide 208 Out of a total of 220 votes, this is the constitutional number for the session.
Faisal stressed that "the re-election represents the only solution to restore an equal and integrated political map and the formation of a majority representing an Iraqi government that elects a president and an opposition democratic minority that plays an important role in the legislative authority," noting that "re-elections is also the only solution to amend some ambiguous constitutional articles in implementation and implementation." This will enhance the role of the constitution to ensure political legitimacy in the country."
The head of the "Colwadha" polling center, Basil Hussein, rules out that the leader of the Sadrist movement, Muqtada al-Sadr, would make concessions to the coordination framework to resolve the crisis, as he was going towards escalation, referring to it as "a battle of breaking wills, in which al-Sadr does not want to appear to the public broken."
Hussein said that "there are two ways to dissolve Parliament. The first is the direct one defined by Article 64 of the Constitution, which stipulates that the House of Representatives dissolve itself by an absolute majority of its members at the request of one-third of the member deputies, or a request from the Prime Minister or with the approval of the President of the Republic."
The decision rests with the Federal Court
Hussein explained that "the indirect way is for the Federal Court to dissolve Parliament through a lawsuit filed by relying on the general theory of constitutional interpretation, for example, to issue a fatwa for the perjury stipulated in Article 50 of the Constitution, or to issue a fatwa that the House of Representatives no longer has the right to vote." constitutional legitimacy due to exceeding the constitutional deadlines," he said, noting that "the Court had previously issued a ruling that the House of Representatives must elect the President of the Republic within a short period."
crossing gate
Hussein considered that "the re-election is the gateway to overcoming the current crisis and a basic condition for resolving it, because the current parliament no longer embodies the representation that resulted from the election results due to the withdrawal of the first winning bloc, the Sadrist bloc," noting that "the holding of elections without constitutional reforms through the umbrella of constitutional justice." It will only mean a transfer of the crisis without a solution."
Hussein explained that "the Federal Court should make constitutional amendments in relation to Article 76 by assigning the first winner in the elections to form the government, thus we will get rid of the burden of the largest bloc or the most numerous parliamentary bloc, which is an obstacle to forming a government," noting that "the second amendment is related to Article 70." It is represented by the court ruling that the quorum for the second round of voting is the absolute majority of the number of members of the House of Representatives, thus ending the issue of the two-thirds quorum."
Hussein referred to the third amendment related to Article 72 (Second B), which is that the 30-day period for electing the President of the Republic should be a constitutional and not an organizational period, in order to force the parties to proceed with forming the government and abide by the constitutional timings, stressing that "the lack of reforms means that early elections are of no use." to her".
The legal researcher Ali Al-Tamimi also considered that "the Federal Court can dissolve Parliament for not performing its constitutional role within the deadlines set for it." Al-Tamimi said that the Federal Court can dissolve Parliament in accordance with Articles 47 and 59 of the Civil Code related to the failure of this institution (Parliament) to perform its constitutional role and exceed the constitutional deadlines, noting that "Article 64 of the Constitution does not provide for this, so we return to the general principles contained in The Civil Code confirms that when the institution is unable to perform its role, the judiciary will dissolve it."
Al-Tamimi believed that "the large number of lawsuits that are filed before the Federal Court is the best way to obtain a decision to dissolve parliament, which is a general popular demand."
rawabetcenter.com