Al-Kazemi, addressing the political forces: Dialogue for a thousand years is better than the moment we collide with as Iraqis
Al-Kazemi, addressing the political forces: Dialogue for a thousand years is better than the moment we collide with as Iraqis
2022-08-10 02:36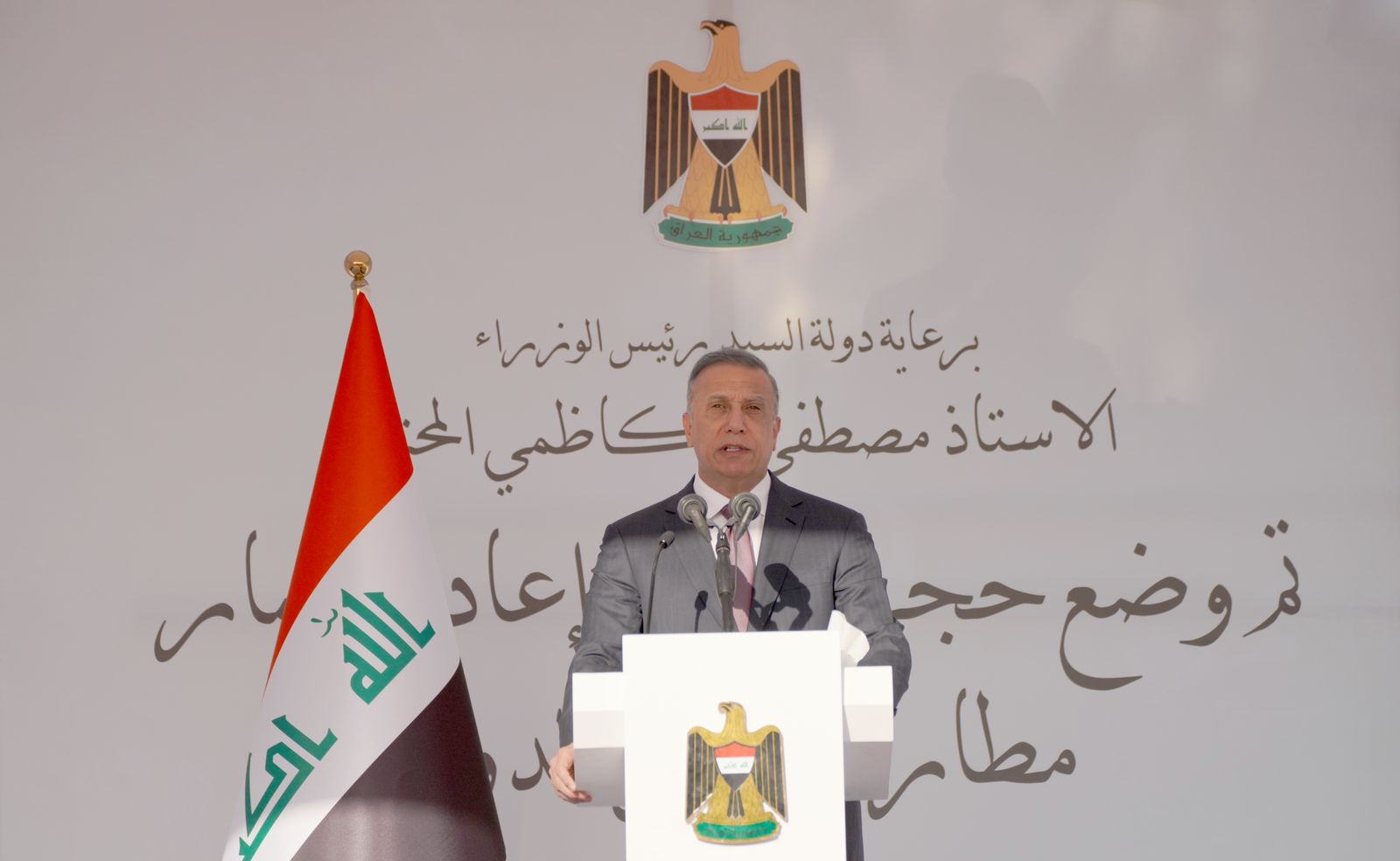 Shafaq News/ On Wednesday, Prime Minister Mustafa Al-Kazemi considered dialogue the only way to overcome the current political crisis in the country.
This came in his speech during the ceremony of laying the foundation stone for the rehabilitation project of Mosul International Airport.
Al-Kazemi said in his speech, "We succeeded in crossing the economic challenge as well as the security challenge, and today the political blocs are required to assume their responsibilities by resolving the issue of the political blockage, for the sake of Iraq's interest and its future."
He added, "I wish everyone to work with all force to resolve the political impasse and resort to dialogue to resolve differences, and we have no choice but dialogue," adding that "dialogue for a thousand years is better than the moment we collide with as Iraqis."
With regard to Mosul Airport, Al-Kazemi said, "The Mosul International Airport project is a strategic and important project for our sons in the province, and we are laying the foundation stone today."
He also stated that "Mosul International Airport will provide job opportunities, facilitate transportation, and facilitate the lives of citizens."
Al-Kazemi described the "city of Mosul" as "a model of Iraqi coexistence and diversity, which we consider an element of strength," saying, "a model of tolerance that proves that Iraq possesses a lot of human capabilities and competencies in this province, which is good with its people and history."
He went on to say that "the city of Mosul has suffered a lot from the policies of confusion, terrorism and poor planning, and God willing, what happened in the past will not be repeated, neither in Mosul, nor in Nineveh, nor in the whole of Iraq."
The head of the federal government also noted that "there are tremendous efforts being made daily for reconstruction, and I personally follow them, and follow the details of the challenges and overcoming them, in order to send a message that the Iraqis deserve life, and that they are able to turn challenges into opportunities for success."
He added, "We must pay tribute to the other projects that the province is witnessing, and soon (..) we will come to inaugurate the project of reconstructing Al-Nuri Mosque, this important mosque that is on the conscience of the people of the province and all Iraqis." International organizations, UNESCO, and international organizations, as well as the advisory office of the University of Mosul, and brother Rakan Al-Allaf have worked, and we hope that this project will be completed in the near future.
"Today, we all need integration and cooperation in order to mobilize energies and build an Iraq worthy of Iraqis, and these efforts will not be lost, and we will not allow the corrupt to exploit these projects to squander the people's money," he stressed.
Al-Kazemi stressed that "the result of everyone who tries to tamper with these projects for personal interests or for the sake of gangs and corrupt groups will be the same as the fate of the terrorists who tried to destroy this city."
shafaq.com