Israel-Hamas war.. Biden asks Sudanese to play a mediation role with Iran
Israel-Hamas war.. Biden asks Sudanese to play a mediation role with Iran
2023-10-18 09:00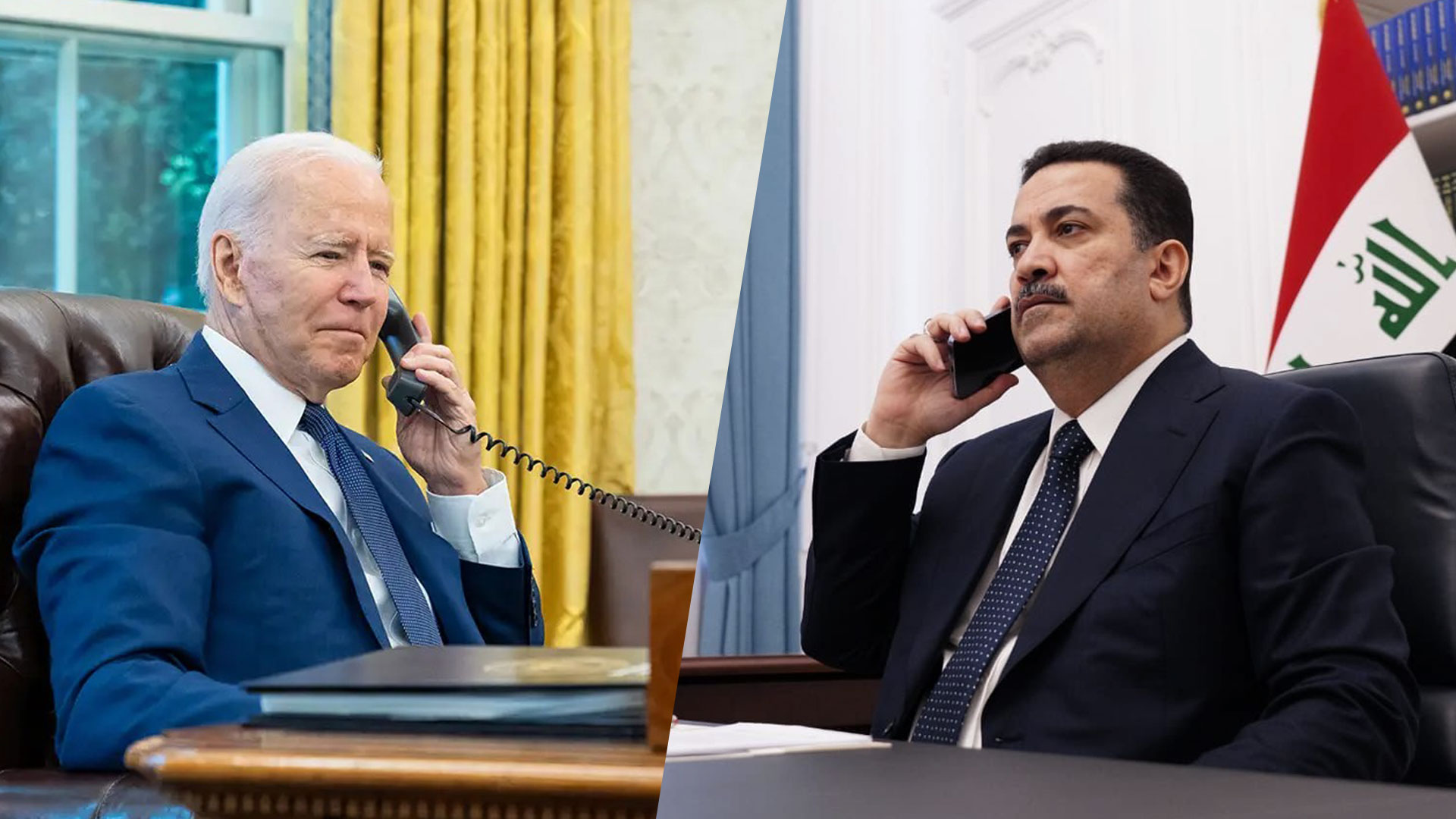 Shafaq News/ An informed government source revealed, on Tuesday, that US President Joe Biden asked Iraqi Prime Minister Muhammad Shia al-Sudani to play a mediating role with Iran, in order to contain any expansion of the battles that have been ongoing for ten days between Israel and the Hamas movement.
The source told Shafaq News Agency that Biden appreciated Baghdad's official role in calming the situation during the current crisis, and talked about playing a mediation role, especially with Iran, in order to calm the situation.
He added that Al-Sudani expressed his conviction of the necessity of working towards containment and non-escalation, provided that this is accompanied by a ceasefire and the creation of humanitarian corridors to provide relief to the people in Gaza.
The White House said earlier on Tuesday that US President Joe Biden spoke with Iraqi Prime Minister Muhammad Shia al-Sudani, as part of his efforts to contain the conflict between Israel and the Palestinians.
Later, the Sudanese Media Office said in a statement, received by Shafaq News Agency, that Prime Minister Muhammad Shiaa Al-Sudani received a phone call from the President of the United States of America, Joe Biden, during which the ongoing field developments in the Palestinian territories were discussed, and during the call it was emphasized that The importance of mobilizing efforts and joint work to support sustainable stability in the region, as well as efforts to strengthen the bilateral partnership between Iraq and the United States of America, according to the strategic framework agreement between the two countries.
During the call, the two sides stressed the need to contain the conflict and work to prevent the expansion of the circle of war, which targets civilians and threatens regional and international peace and stability.
The Prime Minister renewed Iraq's firm and principled position regarding what is happening in Gaza, pointing out the importance of opening humanitarian corridors and delivering what the people of the Gaza Strip need, who are subjected to war and an unjust siege.
Al-Sudani also stated, according to the statement, that "the continuation of the aggression against Gaza arouses the anger of people in the region and the world."
Earlier on Tuesday, Iranian Leader Ali Khamenei said that his country "must respond to what is happening in Gaza."
Iranian state television quoted Khamenei as saying: "No one will be able to stop Muslims around the world and the resistance forces if Israel's crimes in Gaza continue."
The semi-official Fars News Agency also reported that Iran warned Israel of escalation if it did not stop attacks on the Palestinians.
Iranian Foreign Minister Hossein Amir Abdollahian said: "If the attacks do not stop, then all parties in the region are on the trigger."
On the other hand, Israeli Prime Minister Benjamin Netanyahu pledged to "destroy Hamas" as its army prepares to invade the Gaza Strip.
shafaq.com