In the era of "democracy" .. America and Iran identify a prime minister alternative to Adel Abdul Mahdi
In the era of "democracy" .. America and Iran identify a prime minister alternative to Adel Abdul Mahdi
Saturday 09 November 2019 at 16:31 pm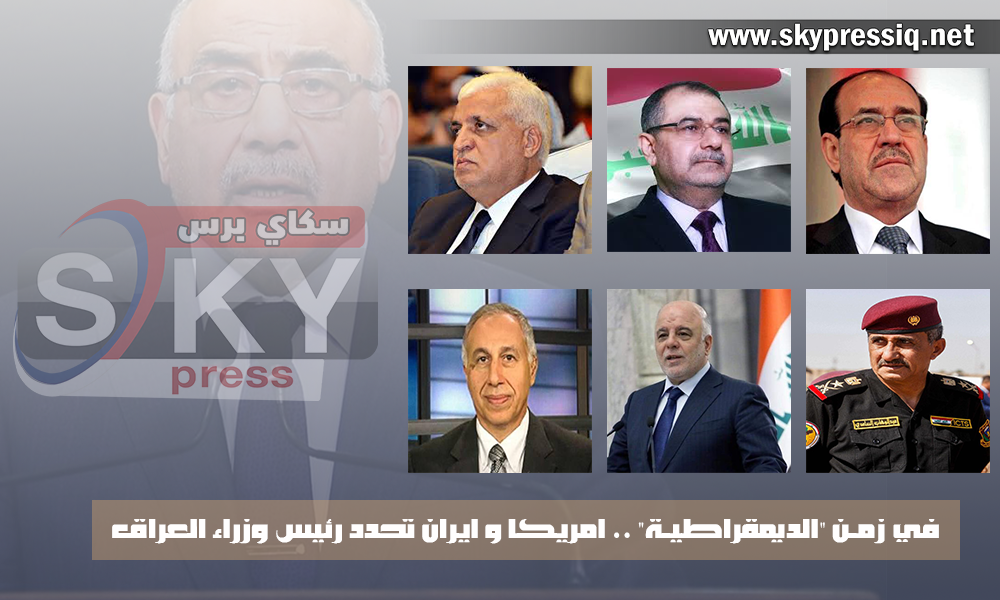 Baghdad / Sky Press
Many questions raised by the Iraqi street on the resignation of the current Prime Minister Adel Abdul-Mahdi
if the first demand for the demonstrators, which is the resignation of Abdul-Mahdi,
will be the whole matter? Surely everyone will ask about the next stage
who will rule us and who will control us? !
The next prime minister will be chosen by America or Iran ?! Especially since we live in a time of "democracy"
Some Arab and international news agencies reported that the US and Iran
would nominate three people, one of whom would replace Adel Abdul Mahdi.
Another question raises the same who will win the allies of America or allies of Iran ?!
Which will serve the country more and maintain it?
So now everyone is wondering: Who are these unknown leaders
Who is Adel Abdul Mahdi's alternative for America?
Who is Abdul Mahdi's alternative to Iran?
It is possible to guess the three personalities that will be chosen by America
through their direct association with them, namely:
"Abdul Wahab al-Saadi" "Haider al-Abadi" "Laith Kubba"
The characters chosen by Iran are:
"Nuri al-Maliki" "Qusai al-Suhail" "Faleh Fayad"
After all these plans , there remains the obstacle to the process of change
and this obstacle is the alliance of conquest , which did not agree to the resignation of Adel Abdul Mahdi now ,
but if the parties agreed with the US and Iran will be able to convince the opening to abandon high Abdul – Mahdi
After getting rid of the obstacle of conquest emerges a new
obstacle is that the Mahdi did not think to resign so far
skypressiq.net