CBI closes more than 190 unlicensed currency dealers in Iraq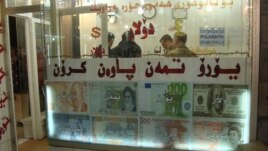 Economists hailed the decision of the Iraqi Central Bank of Iraq was closed more than 190 Mketbalchirfah unlicensed dealing in U.S. dollars.
He said the economist, Dr. Hilal Taan that although this decision came too late, but he is correct and wise, because it will stand general currency smuggling, and money laundering operations, and operations of speculation, which aims to Zazh prices, and the instability of the exchange rate of the Iraqi dinar.
To the one that showed the banking stores in Baghdad displeasure with this resolution, which he said was issued without prior warning, as well as the closure of these shops will increase the price of the dollar.
While any deputy central bank governor Dr Mohammed Saleh, said that the appearance of the bank's decision came after the discovery that there are a number of shops dealing in millions of dollars in banking without a license to practice the profession, which opens the door to several problems, including money laundering, as well as feeding the sources of terrorism.
The exchange rate of U.S. dollar against the Iraqi dinar is witnessing since the period of a few non-volatile, especially after the Iraqi Central Bank has taken measures which the size of the sale of the dollar, especially after being found smuggled to neighboring countries that suffer from economic sanctions.
iraqhurr.org