Signs appeared in the video Baghdadi may determine his whereabouts .. Know them
Signs appeared in the video Baghdadi may determine his whereabouts .. Know them
Tuesday, April 30, 2019 at 14:52 PM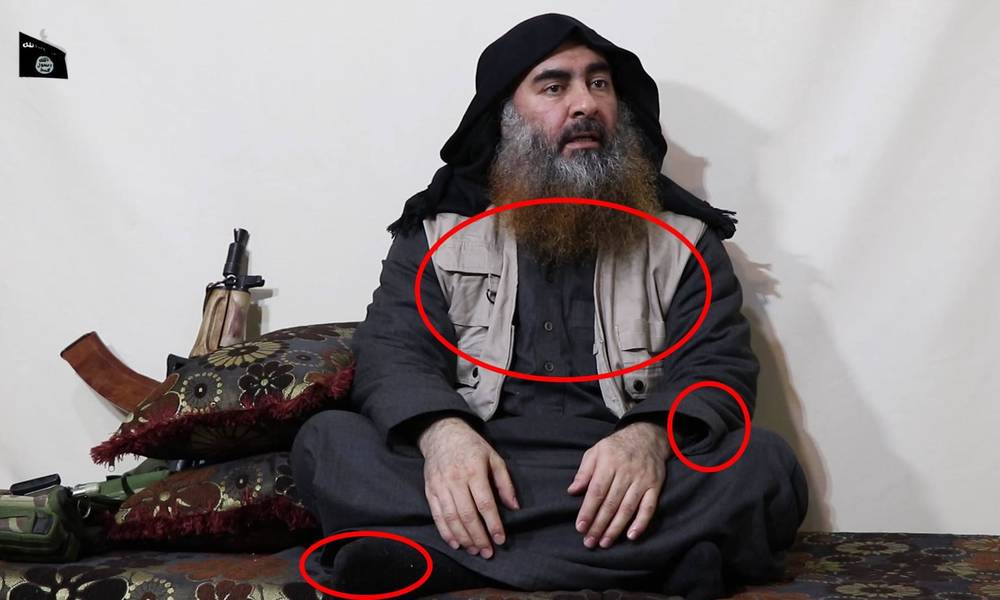 Baghdad / Sky Press
The emergence of a leader calling for Abu Bakr al-Baghdadi unexpected surprise, especially after the recent defeats suffered by the organization, especially in the Syrian Bagouz. But the alleged "Caliph" appeared again, after the disappearance of more than 5 years, which increased rumors about his death and injury Tura.
The video, aired by the Al-Furqan al-Da'ishiya news agency on Telegram on Monday, revealed some hidden objects or signs.
A report in the Italian newspaper Corriere della Sera indicated that the appearance of the Kalashnikov behind Baghdadi was a reminder and a recall of the way in which the leader of al-Qaeda appeared in what appeared to be "Greetings" to the terrorist man who was once considered the world's first most wanted.
One of the Syrian activists from al-Raqqa said that al-Baghdadi appeared with three men whose faces were hidden, but they wore a kind of shmagh used in eastern Syria and western Iraq. Al-Baghdadi also appeared in an "Arab council" Areas) is made of cloth spread in that area "the Syrian island and Mosul."
He pointed out that this type of cloth was imported from Aleppo, but the plants stopped production since 2013, and perhaps this observation can be limited or the place where it can be al-Baghdadi (circle of 100 km)
"The video was filmed between April 12-22, 2019, and not later, because the reference to the Sri Lankan attacks was added by voice.
Thus, due to what al-Baghdadi also wore (somewhat winter clothes), indicating the cold weather during the period of photography, we find that there are two areas very cold in that period, the first area between Tal Afar and the mountains of Sinjar is likely, and the second is Badia Al-Shaddadi south of Hasaka Is unlikely, according to Syrian activist Tim Ramadan.
For his part, said Dr. Ahmed Al-Sharifi, a strategic expert and researcher in the affairs of armed groups, that the emergence of Baghdadi at this time indicates that there is a role of a new role will be played by the organization in the future, considering that this challenge may be transient to the region of crises and unrest, which was limited to some extent Iraq and Syria.
He considered that the tactic of the new organization will go in a qualitative direction and not quantified.
"Al-Baghdadi talked about a conflict between" two nations of the Cross Nation and the Nation of Islam ", and this is part of his strategy. The organization is still committed to it. This means that all the operations that will take place and even the operations in New Zealand and Sernlaka will take this dimension, "He said.
"Baghdadi's appearance did not come at all to confirm that he was alive, because that region was abandoned to his followers and followers of extremist groups and movements." Baghdadi wanted to emphasize that he was still playing his role within the organization. "
As for al-Baghdadi, he said that this fragmentation or expansion has become a reality, and it is supposed to be a perspective from the institutions and security departments concerned with terrorism, especially that the decentralized system will allow these groups to carry out specific operations.
The next stage is likely to be a dangerous phase.
He stressed that Dahesh is in Africa and was preparing his resources or cadres in one form or another for a period to come.
As for al-Baghdadi's guidance to some of the Libyan militias, Al-Sharifi explained to al-Arabiya that Libya can never be separated from Egypt. Talking about Libya implies talking about Egypt's national security, so professional countries should take this into consideration.
skypressiq.net