Close to Maliki: Qasim Soleimani failed to remove the American-backed Abbadi
Close to Maliki: Qasim Soleimani failed to remove the American-backed Abbadi
Tuesday, September 04, 2018 at 11:22 am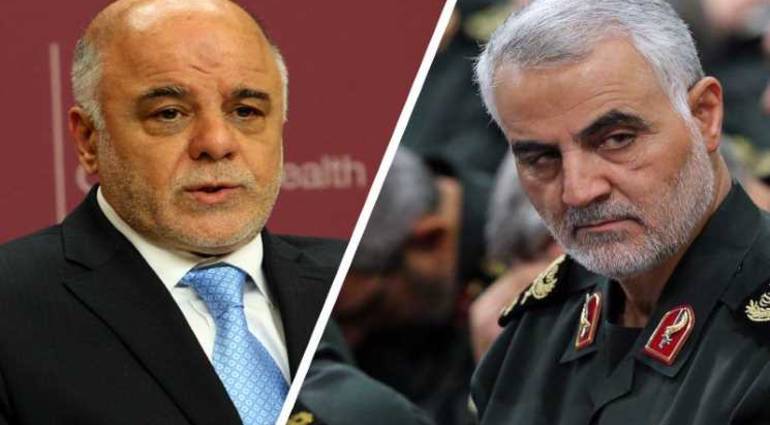 Baghdad / Follow-up Sky Press
A leader in the coalition of state law, the commander of the Iranian Quds Force, Qassem Soleimani, became helpless in the presence of the envoy of US President Brett McGork, after the latter succeeded in efforts to form the largest bloc in the House of Representatives in isolation from Iran.
The site of berth 22 in a report on a close to al-Maliki and a leader in the coalition of the rule of law, saying that "Iranian General Qasim Soleimani is in the capital Baghdad intensively, since the announcement of the results of counting and counting of the Iraqi elections, he could not remove the outgoing Prime Minister Haider Abadi And remove him from the circle of competition for the presidency of the next Iraqi government. "
The official, who declined to be named, said that "last week saw a meeting headed by General Qassem Soleimani, included a number of political leaders, including the head of a coalition of law Nuri al-Maliki, and the President of the Fatah alliance Hadi al-Amiri, a number of political leaders and popular mobilization, To find a way to convince the national axis and Kurdish parties to join the axis of the rule of law and the opening to form the largest bloc and the next government.
He added that "after an hour of the meeting received a phone call Sulaimani, informing the attendees after that that Tehran stands helpless to displace and remove the head of the victory coalition Haider Abadi from the circle of competition for the prime minister, confirming the adherence of Iran candidates Faleh Fayyad former national security adviser, And the dissident for the victory coalition, and Tariq star leader of the Islamic Dawa Party and close to Nuri al-Maliki.
The official in Maliki's coalition, that "the leader of the Sadrist movement Moqtada al-Sadr of Haider Abadi make it more powerful, and adheres to the post of prime minister, but the alliance of the nucleus of the largest bloc led by Saroon, following the Sadr, has not announced an official candidate for prime minister.
skypressiq.net