Iraq turned into an "Iranian bank" .. the conflict of two parties within its territory .. Deny of the dollar .. Iraq between two extremes
Iraq turned into an "Iranian bank" .. the conflict of two parties within its territory .. Deny of the dollar .. Iraq between two extremes
Wednesday, August 08, 2018 at 10:04 am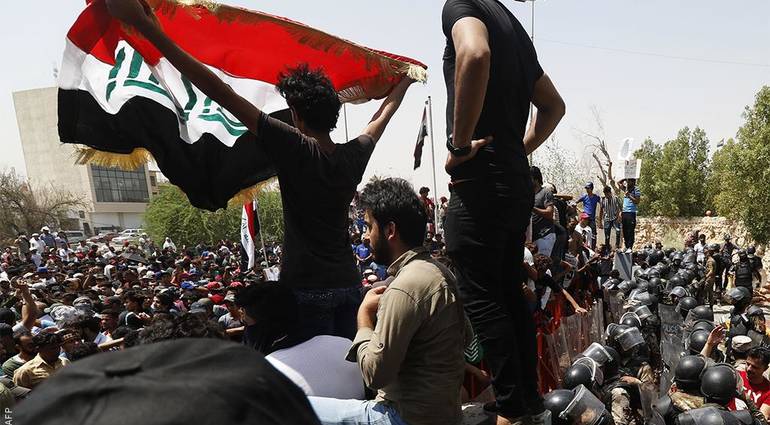 Baghdad / Sky Press
Iraqi President Fuad Masum declared that the circumstances of Iraq and the nature of his relations with Iran "make it difficult for him to comply with the implementation of the sanctions imposed by Washington on Tehran," while increasing fears of the repercussions of these sanctions on them, security and economic. "Iraq should not be with a party against another party in the current conflicts," Masoum said.
The first package of US sanctions began on Tehran yesterday, including Iran's ability to buy dollars, gold, precious metals, steel and automobiles. US officials said the United States would not grant exemptions or exemptions from the sanctions, but would consider any requests individually.
Iraq is one of the most feared countries of the consequences of these sanctions, security and economic, as Iraqi officials fear of a security conflict between the parties within their country, by threatening Iran's interests in Iraq through Shiite factions loyal to them, and has threatened to target US bases deployed in the west of the country And its north.
On the economic side, economists fear that Iraq will turn into an "Iranian bank" to cope with the economic crisis in a scenario similar to 2009 when Tehran worked to export hundreds of cheap goods, some of them of poor quality, to get the dollar sold in Iraq without strict controls.
The volume of trade between Iraq and Iran is about $ 12 billion a year, peaking during the sanctions period in 2009 when Baghdad imported thousands of cars and sold to Iraqis at cheap prices compared to other species, but the country quickly suffered from its poor.
skypressiq.net