The new Iraqi "coalition" is waiting for the "Abadi" position and may tempt other parties to join
The new Iraqi "coalition" is waiting for the "Abadi" position and may tempt other parties to join
Saturday, June 09 2018 at 11: 34 am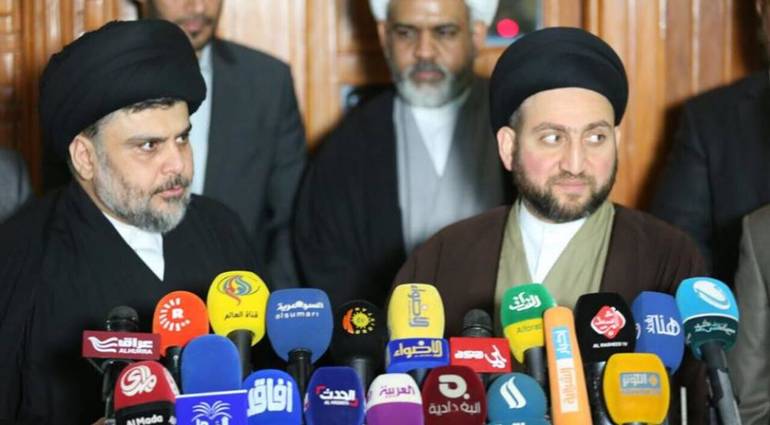 Follow-up / Sky Press
The "coalitions" led by Moqtada al-Sadr, and "national" led by Iyad Allawi, and "wisdom" led by Ammar al-Hakim, an important step towards the formation of the largest bloc when it announced the formation of a coalition among them including 94 seats, to resume negotiations to form a government to the hot, This alliance is expected to position Prime Minister Haider Abadi 42 seats, which are similar to his positions with the new alliance.
The announcement of the tripartite alliance is the first step, since the announcement of the election results, towards the formation of the largest bloc eligible, according to the Constitution, to nominate the Prime Minister, and may tempt other parties to join him, especially the victory coalition led by Abadi,
A member of the National Coalition Raad al-Dahlaki said in a press statement that the National Alliance and Sawson and wisdom is the nucleus of the formation of the largest parliamentary bloc, and may include many of the winning lists. He pointed out that "this alliance is open to all, especially lists that have the same programs and objectives that we seek, primarily the return of displaced people and the reconstruction of destroyed cities and provide security and services in all regions of the country."
The alliance hopes to join Abadi, whose positions coincide with the coalition at the expense of the rest of the other blocs. According to information, the prime minister is seriously considering his option, and he may announce it within days after resolving the election fraud crisis, especially with leaks that he received an offer to remain in office from Sadr and important Sunni parties.
In the event of joining Abadi, the balance of the new alliance will be 136 seats and need more seats, and the closest forces to it is the coalition of the "Iraqi decision" led by Osama Najafi 14 seats, and the "Democratic Party of Kurdistan" 24 to 174 seats enough to choose the prime minister in parliament With a majority of seats in the parliament of 165 seats in accordance with Article 76 of the Constitution.
The alliance is the political party seeking to establish a national option away from the influence of Iran and abroad, while the rest of the forces, the conquest of 47 seats and the rule of law 25 seats and the Patriotic Union of Kurdistan 18 seats known to be close to Iran, 90 seats are not enough to compete with the emerging alliance, Will be influential in parliament, and may work to disrupt the work of the government if excluded from the new government formation.
The leader of the conquest Karim Nouri said that "talk about alliances at this time, and before the ratification of the election results, is nothing more than an expected tactic of political pressure on the rest of the blocks, including the coalition, which was announced last Thursday between the people and wisdom and patriotism, "Negotiations are still underway between the blocks and in the stage of sensing the pulse, did not rise to understandings on the formation of a parliamentary bloc."
Al-Nuri said that his alliance "will not allow to go back and re-form a unified Shiite alliance, and seeks to form the largest bloc of all components, provided that this bloc three or five names to head the government and leave the freedom of choice of choice," pointing to "a large response to these The idea of ​​the majority of winning lists will be crystallized into an alliance in the coming period. "
skypressiq.net