Abadi: This is the reason for our disagreement with the Kurds .. This is the substance of our agreement
Abadi: This is the reason for our disagreement with the Kurds .. This is the substance of our agreement with Najran Barzani and Qubad Talabani
Saturday, February 03, 2018 at 16:35 pm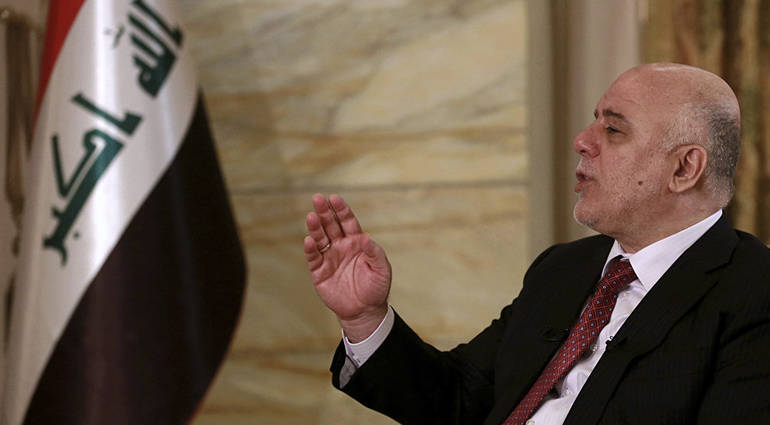 Baghdad / Sky Press
Prime Minister Haider al-Abadi said that Baghdad refuses to manage things in the Kurdistan region in a partisan way, adding that Baghdad agreed with the Prime Minister of the Territory, Nizaran Barzani and his deputy, Qubad Talabani, on a road map under the federal authority.
"The Kurdish problem is part of the historical, we respect the aspirations of the Kurds, and the Kurdish problem is the battle of all successive Iraqi governments, and there is a national problem because they have national points, and there is a crisis," Abadi said in an interview on the points of contention with the Kurdistan Regional Government. In oil and pay back workers in the region and we are working to solve these problems. "
He explained that "the federal government's objection in Baghdad to Arbil because of the lack of transparency or accounting in the Kurdistan region and we refuse to manage things there, where it is managed in a partisan way," adding that "he met with the Prime Minister of the Kurdistan region of Iraq, Najran Barzani and Qubad Talabani, To be properly implemented ".
Abadi said that "some parties do not want to resolve the crisis, and insists on the establishment of a national homeland for the Kurds and this is a dream and ambition, but we reject it completely, and I have a full determination to solve this problem fully, and keen to resolve and impose federal authority to its authority in the region within the framework of our commitment Constitution and law ".
skypressiq.net