Masoom: dialogue Abadi and Barzani will not solve the crisis .. This solution!
Masoom: dialogue Abadi and Barzani will not solve the crisis .. This solution!
Tuesday, December 26 2017 at 11:42 am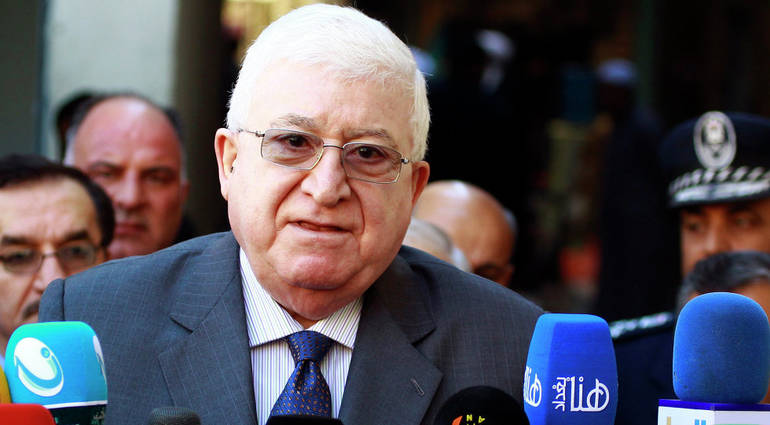 Baghdad / Sky Press
The President of the Republic Fuad Masum, on Tuesday, that there is no benefit from the sitting of Prime Minister Haider Abadi, and the President of the Government of Kurdistan, Nigervan Barzani, together, at the moment, indicating that their seating will not resolve the outstanding issues between Baghdad and Erbil.
"We will go ahead with our proposal, we will not say, Abadi and Barzani should sit together, because they will not come to a conclusion. A delegation should come here to sit with the Ministry of Transport, discuss issues related to airports, sit down with the Commission," Masoum said in a televised interview with Sky Press. Customs for discussion on border border issues ".
"We want to start in a practical way, not in the political niceties of each other."
On his question when he expected Abadi to sit with Barzani at the dialogue table, the President said, "This will happen after the visit of the delegation that will visit Baghdad, because I believe that their direct meeting will not be after any little result, according to what I think should begin to lay a strong foundation and Then construction. "
"For example, talk about the salaries of teachers and the salaries of health workers, and whether the numbers are few or large, can pay their salaries, the rest can be sure of them by biometric and know the numbers of employees, and all these things in the end need to negotiate to reach satisfactory results" .
He warned Masum earlier the Prime Minister of refusing to dialogue with Kurdistan, indicating that the tax of rejection will be significant and Abadi can not undermine the "entity" of Kurdistan.
skypressiq.net