The Iraqi president calls for resolving the differences between Erbil and Baghdad and working to legislate the oil and gas law
The Iraqi president calls for resolving the differences between Erbil and Baghdad and working to legislate the oil and gas law
2022-11-16 23:39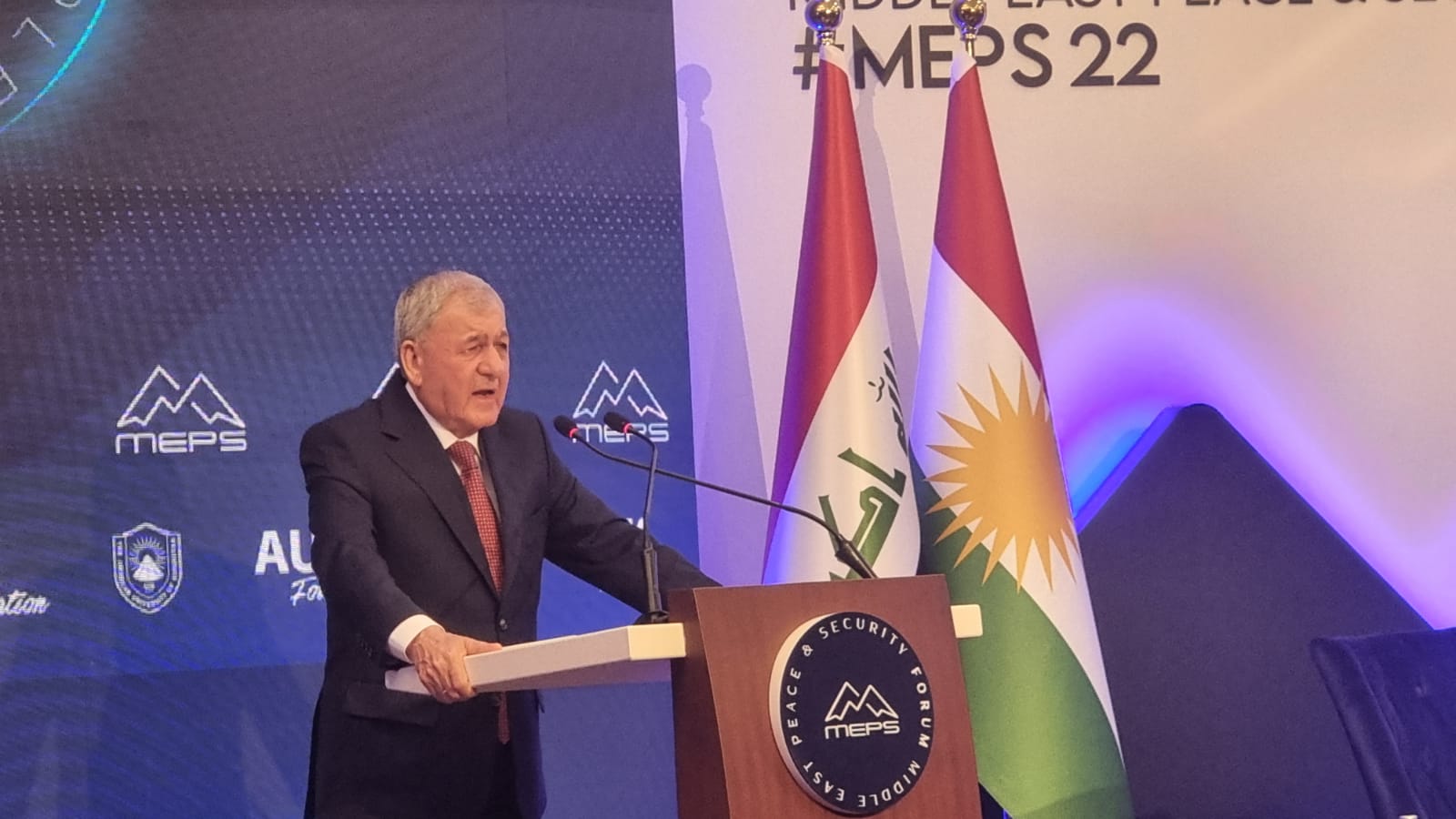 Shafaq News/ Thursday, the President of the Republic, Abdul Latif Jamal Rashid, called for the necessity of resolving the outstanding differences and issues between Erbil and Baghdad and working to legislate the oil and gas law in a way that satisfies both parties.
This came in his speech during the Peace and Security Forum in the Middle East held at the American University in Duhok.
The Iraqi president said in his speech, "We have been very preoccupied with the issue of electing the President of the Republic and the federal government, and what we witnessed during that period must be a factor for us to work together to solve all problems in the upcoming elections."
He added, "Today we have a lot of work that we must do on the basis of the federal government to implement these points that we agreed upon in its formation, and we must always support it," stressing that "three years ago, the Iraqi government was unable to take positive steps in formulating the budget and solving problems." economic and political."
And Rashid added, "What is mentioned today in the government program, I would like to talk about it briefly, first of all, security and stability must be established in all parts of Iraq, and this is an important point and we are trying to achieve it," stressing the need to "implement service projects in all of Iraq," according to the government program. .
He also pointed out that the economic, commercial, social and health situation, education and services are at a level in which they must develop, and in the past period the federal government is far from achieving these goals, and there must be serious attempts for the Iraqi people to rest and stay away from problems.
And the Iraqi president continued by saying that "there are other points that enable there to be a strong and real partnership to solve the problems that we suffer from," noting that "there is another important point that lies in addressing the problems between the federal government and the Kurdistan Regional Government."
He stressed that "these problems must be solved on the basis of the constitution, and the solutions must be in a way that no one blames the other, because the constitution must be the arbiter and the judge."
Rashid pointed out that "there are many steps that must be resolved by the Iraqi parliament and the regional government represented by the oil and gas law. We must start quickly with this issue."
shafaq.com