Al-Hakim: The coordination framework is serious about quickly nominating the Prime Minister
Al-Hakim: The coordination framework is serious about quickly nominating the Prime Minister
2022-07-17 07:38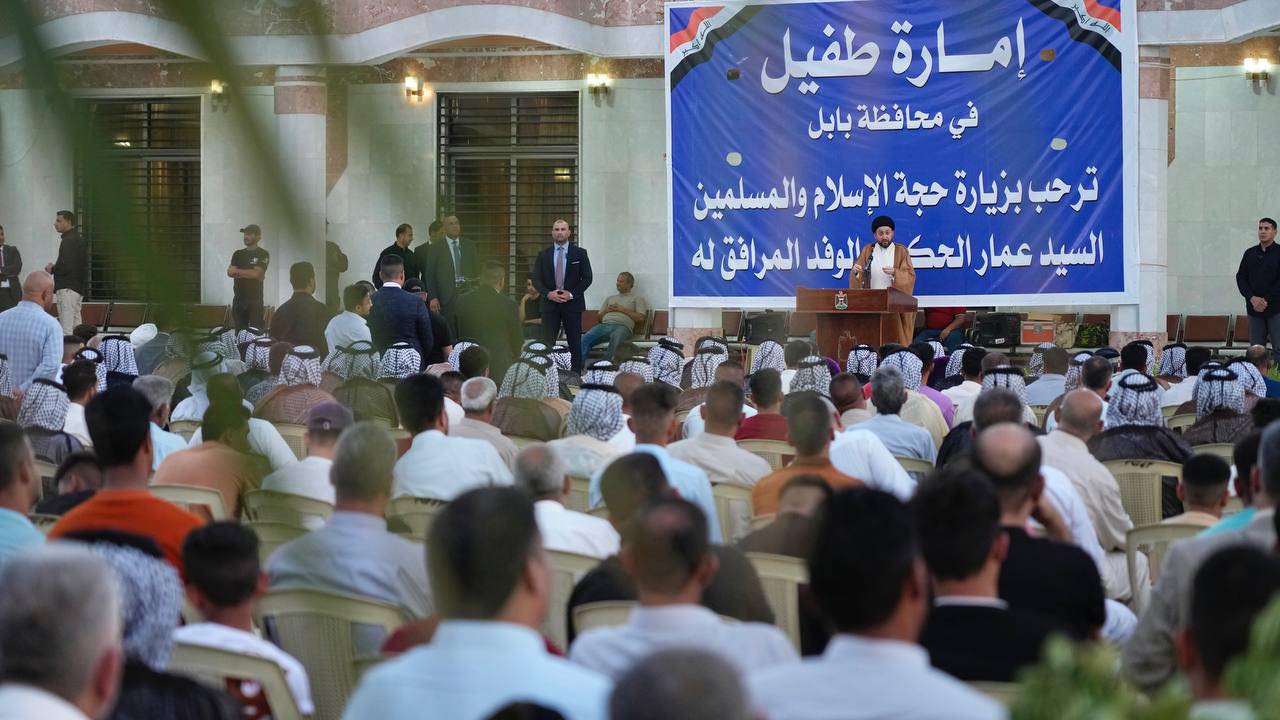 Shafaq News/ The leader of the "state forces" coalition, Ammar al-Hakim, confirmed on Saturday that the coordinating framework, which includes Shiite political forces, is "quickly" serious about the nomination of the Prime Minister for the next federal government, reiterating his call to the Kurdish forces to agree on a candidate for the position of President of the Republic.
Al-Hakim called in a speech this evening during a clan gathering in the province of Babil, "the Kurdish leaders to agree on a candidate for the presidency or the mechanism of his nomination to be decided with the first session of the House of Representatives in the coming days after the end of his legislative recess."
He added that "the brothers within the coordinating framework are serious about quickly nominating the prime minister and proceeding with the formation of the national service government."
Al-Hakim reiterated his non-participation in the next government, while assuming responsibility towards the people by continuing to bring the views closer, encouraging, motivating and helping to form the government.
The coordination framework, which includes all Shiite forces except for the Sadrist movement, had called yesterday for the Iraqi parliament to convene this week and elect a president for the republic in preparation for the formation of the next federal government, in a meeting held at al-Hakim's house.
Sources from within the coordination framework revealed earlier this evening, some details of their meeting yesterday at the home of the leader of the Wisdom Movement Ammar al-Hakim, which indicated a split between the Shiite political forces within the framework regarding the nomination of the leader of the Law Coalition, Nuri al-Maliki, for himself for the position of Prime Minister of the next Iraqi government.
It is noteworthy that the political blocs agreed in the parliament session that was held on Thursday, June 23 of this year, to proceed with the formation of the new federal government, according to the principle of "partnership, balance, and consensus", which are the conditions announced by Kurdish leader Massoud Barzani.
This agreement came after the breakdown of the tripartite alliance between the Kurdistan Democratic Party led by Masoud Barzani, the Sovereignty Alliance headed by Khamis al-Khanjar, and the Sadrist movement led by Muqtada al-Sadr following the resignation of the Sadrist bloc's deputies, and the current's withdrawal from the political process by order of al-Sadr.
The Sadrist bloc had obtained the highest votes in the early legislative elections that took place in October of 2021, but the efforts of the leader of the current failed to form the new federal government due to the Shiite coordination framework standing in its way by obtaining a fatwa from the Federal Court with the so-called blocking third in a contract The session for electing the President of the Republic, which paves the way for naming the Prime Minister.
shafaq.com