Khazali sends a message to the Kurds regarding the President of Iraq: The Prime Minister's decision within the framework will not be delayed
Khazali sends a message to the Kurds regarding the President of Iraq: The Prime Minister's decision within the framework will not be delayed
2022-07-10 07:36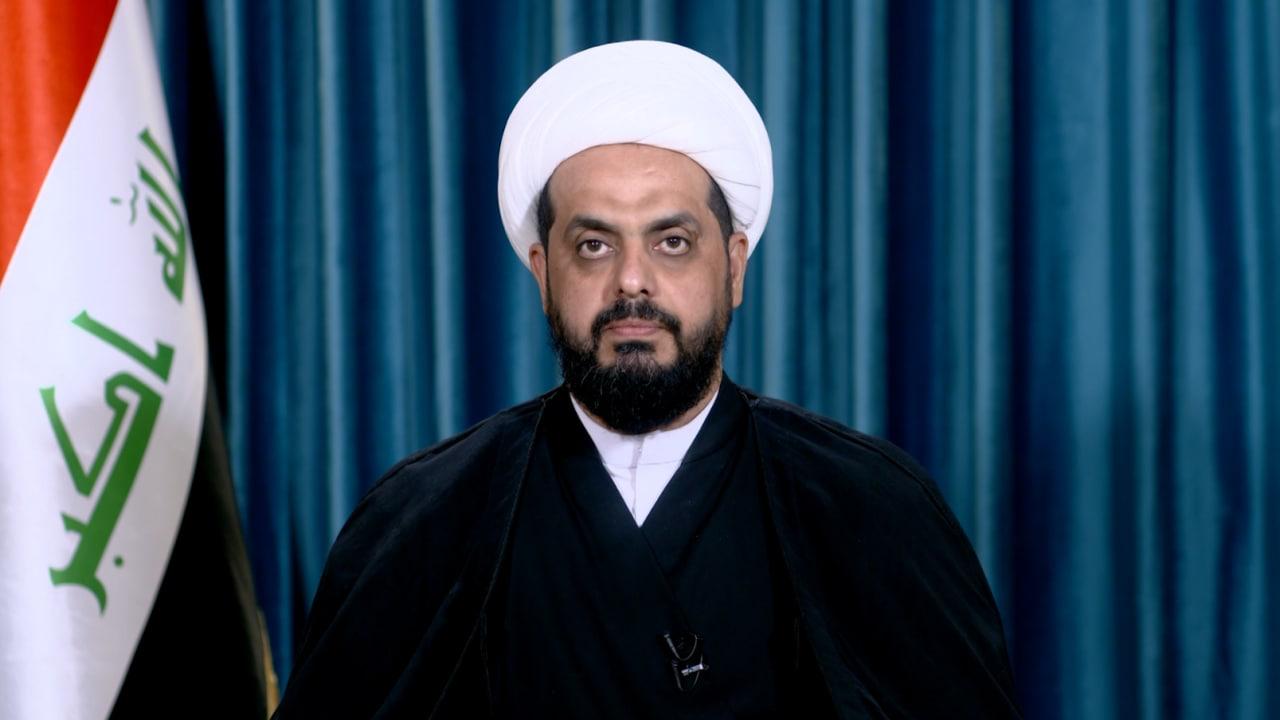 Shafaq News/ The Secretary-General of the "Asa'ib Ahl al-Haq" movement, Qais al-Khazali, considered, on Sunday, the withdrawal of the Sadrist movement from the political process will accelerate the formation of the next federal government in Iraq, while he called on the Kurdish forces and parties to resolve the position of the President of the Republic, expecting that the Shiite coordination framework will be able to Submit a candidate for prime minister easily.
Khazali said in the Eid prayer sermon in front of a number of his movement's supporters, that not long ago, and nearly nine months after the elections, the situation had stopped, and developments had taken place, the most important of which was the withdrawal of the Sadrist bloc from the political process, which generated a new horizon to break the blockage and form the new government.
He added, "There is no delay in forming the government, because Parliament is in a legislative recess, and there is a session that is supposed to take place after the Eid, in which it will be seen whether there is a delay or not," stressing, "We are working to ensure that the formation of the government does not disrupt further, and there is a real opportunity to form it."
Khazali also pointed out that "the situation requires not to cause chaos in Iraq in a country that produces 4 million barrels of oil, and the messages from the countries of the region and the major countries are clear to form a government of national unity."
The Secretary-General of the Asa'ib movement touched on factors that will lead to the success of the next government, including the financial abundance and the government's high oil prices.
Regarding the challenges facing the formation of the government, Khazali said that "there is one challenge to the formation of the government, which is choosing the president of the republic," noting that there is a Kurdish-Kurdish dispute, given that the political custom on the position of the president of the republic is the entitlement of this component, and there is a dispute between the two Kurdish parties.
He believed that the dispute between the Kurdish political forces is deeper than the dispute between the Shiite forces, and this became clearer
He continued, "The coordination framework is with the meeting of the Kurdish political forces and to agree on the issue of the presidency, and there are two solutions. The first is to agree on one person, whoever they will agree on. We do not have a problem, especially the two Kurdish parties. He wins the vote in Parliament and takes the presidency.
Khazali added, "We hope that the Kurdish political forces will reach an agreement, because we will not wait long on the issue of choosing and electing the president of the republic."
On the Shiite-Shiite difference over the position of prime minister, Khazali said that "the choice of the prime minister is not a big issue, and there is agreement on his choice among the forces of the coordination framework, and they are at a level of full awareness in this regard."
He stated that "there is no real problem with the prime minister's decision within the coordination framework, but there are differences within the framework, but they do not rise to be a real problem."
He pointed out that "the survival of Al-Kazemi's government is totally rejected by the coordination framework, and it is not possible for a caretaker government to remain."
shafaq.com