The Parliament of Iraq is an arena for a battle between the parties
The Parliament of Iraq is an arena for a battle between the parties
5-14-2022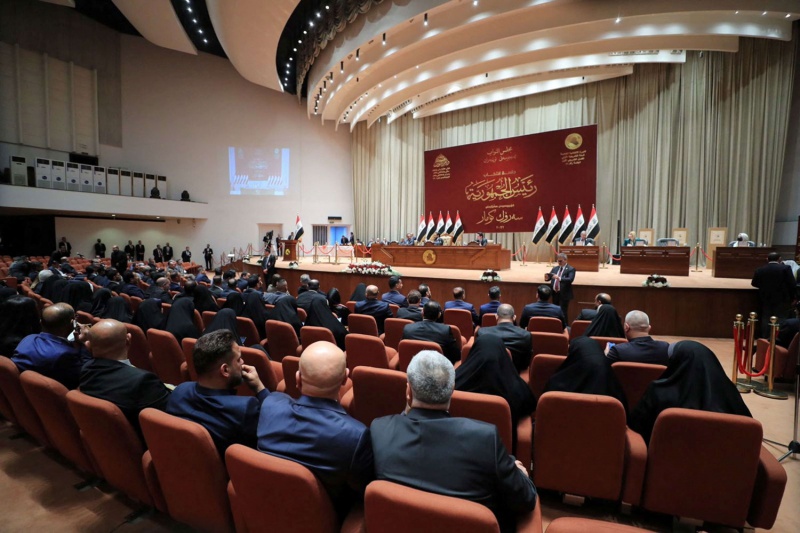 The Iraqi parliament tends to be the new battlefield between the political parties, by employing bills in the never-ending game of breaking the wills between these parties.
Iraqi political circles say that the coordinating framework's conservative stance on a draft law on food security is not without contention with the Sadrist movement and its allies, the Kurdistan Democratic Party and the Sunni Sovereignty Coalition.
These circles warn of the danger of diverting political battles to the parliament arena, as the Iraqi citizen will be affected by this.
Representative of the State of Law coalition, Muhammad al-Sihoud, revealed to "Shafak" news agency that "there is a reservation on many articles of the emergency food security support law."
Chihod questioned the eligibility of Mustafa Al-Kazemi's government to send such laws to the House of Representatives, saying, "The most important basic point in the law, which must be discussed in the next session of Parliament, is the eligibility of the caretaker government to send laws to the House of Representatives," wondering "if the government has the right to Sending laws, why did she not send the budget law, and if it was not her right, why did she send this law specifically?
Chihod clarified his coalition's position by saying that "the state of law believes that the caretaker government does not have the right to send such laws to the House of Representatives because it includes a financial aspect in addition to the presence of some articles that must be repealed from the law."
On Wednesday, the Iraqi parliament decided to postpone the voting session on the "emergency support for food security" bill to next Saturday, "for the purpose of completing the discussions."
Representatives of the coordination framework that includes forces loyal to Iran reject this law, considering it a "waste of public money," and it was formulated according to the vision of the tripartite alliance only.
Since last October, Iraq has been living in the midst of a stifling political crisis between the coordination framework and the Sadrist movement, which leads an alliance calling itself "save a nation" over the presidency and the formation of the next government.
This crisis has greatly affected the work of Parliament, whose sessions were suspended for more than a month before resuming on Wednesday.
rawabetcenter.com