The coordinating framework awaits a meeting with Reber Ahmed and is looking for a "chest" guarantee
The coordinating framework awaits a meeting with Reber Ahmed and is looking for a "chest" guarantee
2022-03-17 08:35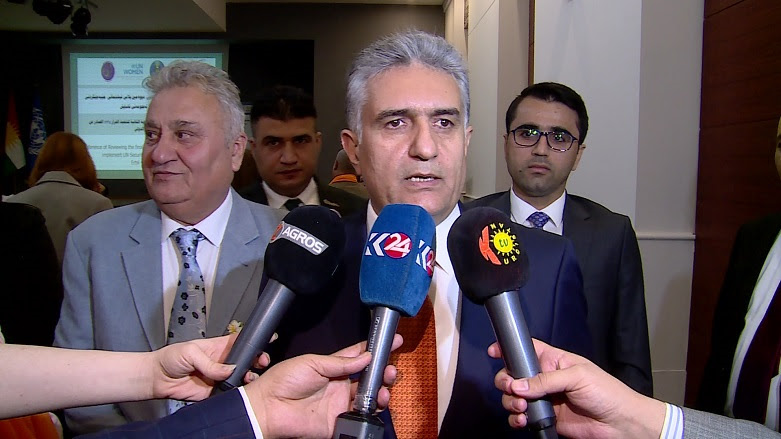 Shafaq News/ A political source revealed, on Thursday, the intention of the Minister of Interior of Kurdistan Region and the Kurdistan Democratic Party candidate for the presidency of the Republic, Riber Ahmed, to meet the Shiite coordination framework to discuss a number of files, including the issue of his candidacy.
The source told Shafaq News Agency, "Information circulated about the possibility of Riber Ahmed meeting with the forces of the Shiite coordination framework during their meeting this evening, in order to clarify some issues besides his candidacy for the presidency and the framework's position regarding it."
He explained that "the framework is looking forward to obtaining guarantees that the leader of the Sadrist movement, Muqtada al-Sadr, will not be singled out in naming the prime minister without consensus within the Shiite house," noting that "this only comes if the parties allied with al-Sadr pressure to accept al-Sadr in accordance with the framework and nominate the candidate from He accepted the framework as a single bloc and not as an entity or a current."
For his part, the leader of the Al-Fateh Alliance, Hussein Obaid Al-Fatlawi, told Shafaq News Agency, "The framework forces will hold a meeting this evening to discuss the mechanisms of exit from the crisis of forming the government in a final form," noting that "the participation or joining of the regional interior minister, Riber Ahmed, in the framework forces meeting is not Confirmed, as we did not receive information about that, however, and if (Riber) met with the framework forces, it would certainly be with the aim of finding a way to pass it to the presidency of the republic.
The Minister of Interior of the Kurdistan Region, Reber Ahmed, and his accompanying delegation arrived earlier this morning at the Iraqi Parliament building in the capital, Baghdad, to attend a meeting of the Parliamentary Fact-Finding Committee charged with investigating the missile targeting incident in Erbil, in the presence of the heads of parliamentary blocs.
shafaq.com