Million fine MP for the absence of the voting session
Million fine MP for the absence of the voting session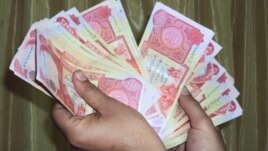 Decided the Presidency of the Council of Representatives to impose a fine of one million Iraqi dinars to each deputy absent from the meetings of the voting will be held on Thursday of each week. 
The decision of the Presidium of the Council that a cause of satisfaction to the large number of citizens, as it came to force MPs to attend and vote on projects laws that affect people's interests. 
and see a member of the Legal Committee of the Board MP Mohsen Saadoun that the fine will stimulate the Parliament over the audience, pointing out that the voting sessions are held regularly and absent by Parliament, but during the vote on the laws at issue and that you need a consensus among the heads of the blocks. 
while He called Shaker Book of the accounting leaders of the blocks is described as "spoiled" who did not attend only one session, and are paid their salaries and allowances, and salaries Hamayatem, stressing the need to apply the rules of procedure against them, and containing the expulsion and the nomination of replacements for them, explaining that some lawmakers are willing to sacrifice millions to prevent pass this law or that pleasing to the bloc. 
while expressed by Hussein Fawzi surprise commitment of MP in the presence of the vote to avoid a fine, large, and no duty is supposed to do, pointing at the same time that the amount of the fine is not little, if the MP is absent more than session.