Barzani to the US ambassador: There is a good opportunity to settle the differences between Baghdad and Erbil
Barzani to the US ambassador: There is a good opportunity to settle the differences between Baghdad and Erbil
03:59 – 09/14/2020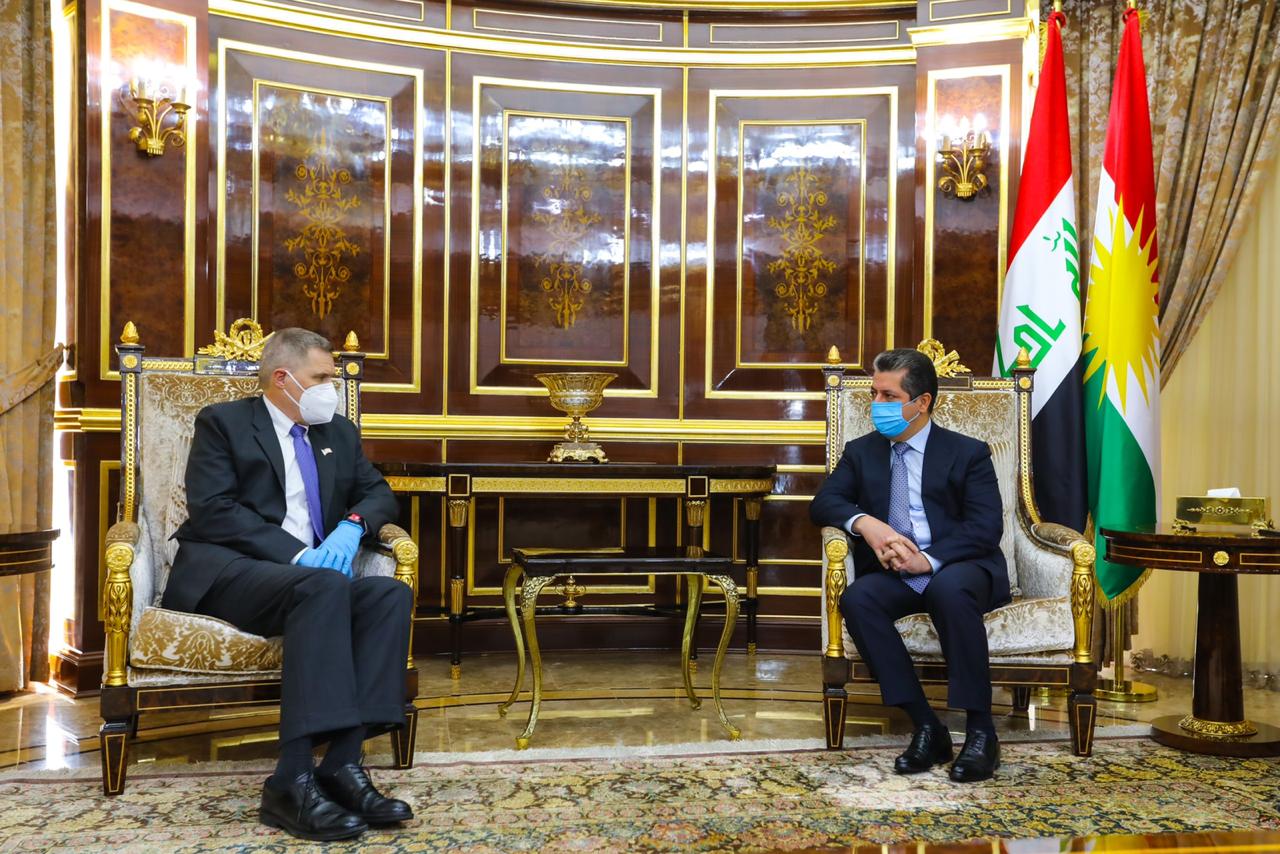 Baghdad – Mawazine News
The President of the Kurdistan Regional Government, Masrour Barzani, confirmed, on Monday, that there is a positive atmosphere prevailing in relations with Baghdad and there is a favorable opportunity to settle differences.
In a statement received by Mawazine News, the regional government stated, "Barzani received the US ambassador to Iraq, Matthew Toller and his accompanying delegation, and in the meeting, which was attended by the US Consul General in Erbil, Rob Waller, they discussed strengthening relations between the Kurdistan region and the United States. The developments of the Iraqi situation and ways to enhance coordination and cooperation frameworks with the United States were also discussed, with the aim of advancing the talks between Erbil and Baghdad, and overcoming the financial crisis and the current health situation.
She added, "The Prime Minister touched on the relations between the Kurdistan region and the federal government in light of a positive atmosphere and a favorable opportunity to settle all outstanding problems on the basis of the constitution, and to implement all the understandings reached by the two sides, taking into account the rights and financial entitlements of the Kurdistan region in the interest of the citizens of Iraq. all".
According to the statement, Barzani highlighted the undesirable situation in the Kurdish regions outside the administration of the region, and expressed his concern about the actions that are being exercised against the Kurdish citizens in those areas.
Barzani referred to the ongoing threats of the terrorist organization ISIS, and said, "We stress the need for security coordination between the Peshmerga forces and the Iraqi army."
The American ambassador expressed his country's readiness to strengthen economic cooperation between the Kurdistan region and the United States, and urged American investors to invest in the region.
mawazin.net