Al-Fatlawi marks an "unfairness" with the Food Security Law and demands a condition on the regional government
Al-Fatlawi marks an "unfairness" with the Food Security Law and demands a condition on the regional government
2022-06-06 04:44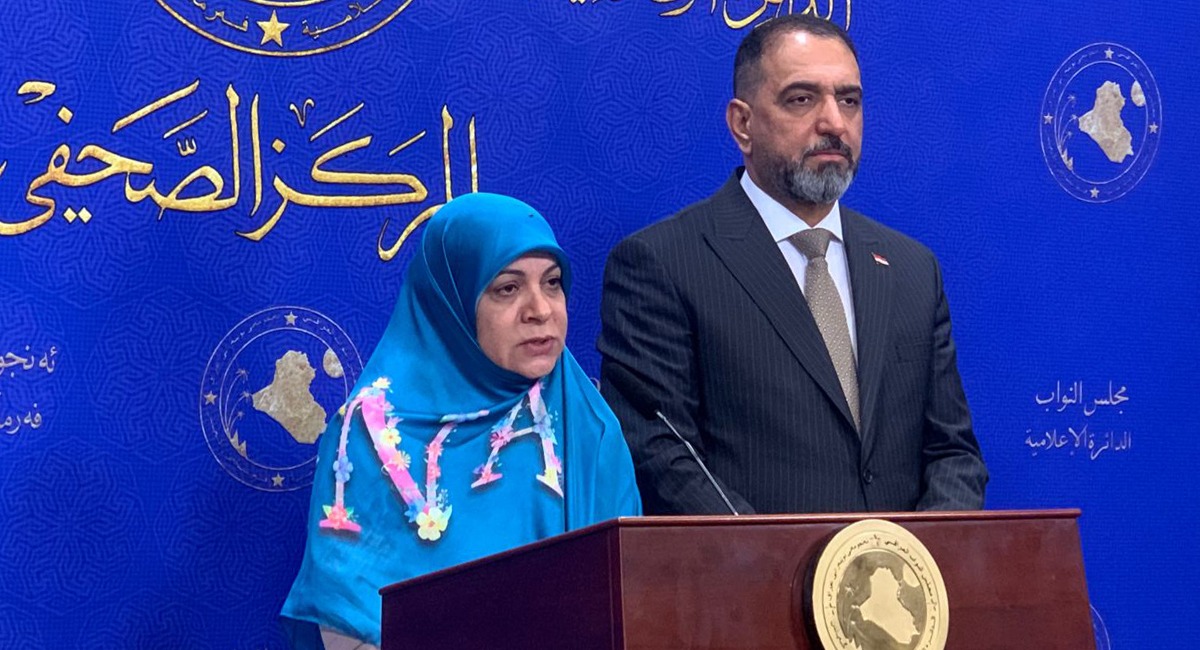 Shafaq News/ Head of the Irada Movement bloc, Representative Hanan Al-Fatlawi, said on Monday that the emergency food security and development law is an "injustice" for the oil-producing governorates, calling on the deputies not to vote on it.
Al-Fatlawi said during a press conference held at the parliament building and attended by Shafak News Agency correspondent, that "the food security law is a great injustice to our oil-producing provinces in the center and south, and a greater injustice to our poor provinces and our provinces destroyed by terrorism."
She added, "The origin of the law is to dispose of the surplus funds that resulted from the rise in global oil prices, and it is surprising that the law's ceiling is an amount of 25 trillion, which is the origin of the law distributed over different sections. It is within the full budget of the law, and this is contrary to fairness, because the Kurdistan Regional Government will share with us all the paragraphs of the Food Security Law without paying any amount of the oil surplus, which increased with the increase in prices globally."
Al-Fatlawi called on the deputies not to vote on the unfair food security law, except on the condition that a clear and explicit paragraph be included that states that the Kurdistan Regional Government will pay its surplus funds or deduct from the region's share within the provisions of the law, or that the law is exclusively applied in the 15 provinces that She paid her surplus oil money or revenues from fees, taxes and border crossings. She concluded by saying, "I personally will not vote on this unjust, unfair, unjust and illegal law."
And earlier today, Monday, the Ministry of Finance announced the approval of the inclusion of the allocations of free lecturers within the Emergency Support Law for Food Security and Development, stressing its seriousness to implement all paragraphs of the Food Security Law if it is enacted in the House of Representatives.
The ministry said, "The Accounting Department will finance an amount (one) trillion dinars after its inclusion in the Food Security Law for the costs of securing the conversion of the daily procedure into contracts for those covered by Cabinet Resolution 315 of 2019, and the dues of free lecturers and administrators covered by Resolution 130 of 2021 who will be converted into contracts under Cabinet Resolution 315 of 2019 and amended by Resolution 337 of 2019."
And she added, "The amount will secure the costs of the guard workers from the Iraqi Reform Department and their inclusion in the law on reforming depositors and inmates, and the launch of appointments for graduates of the years 2019 and 2020 from doctors, pharmacists, dentists, health professionals and scientists."
shafaq.com