The frame says "no" to the parliament session before agreeing with al-Sadr
The frame says "no" to the parliament session before agreeing with al-Sadr
2022-04-27 07:48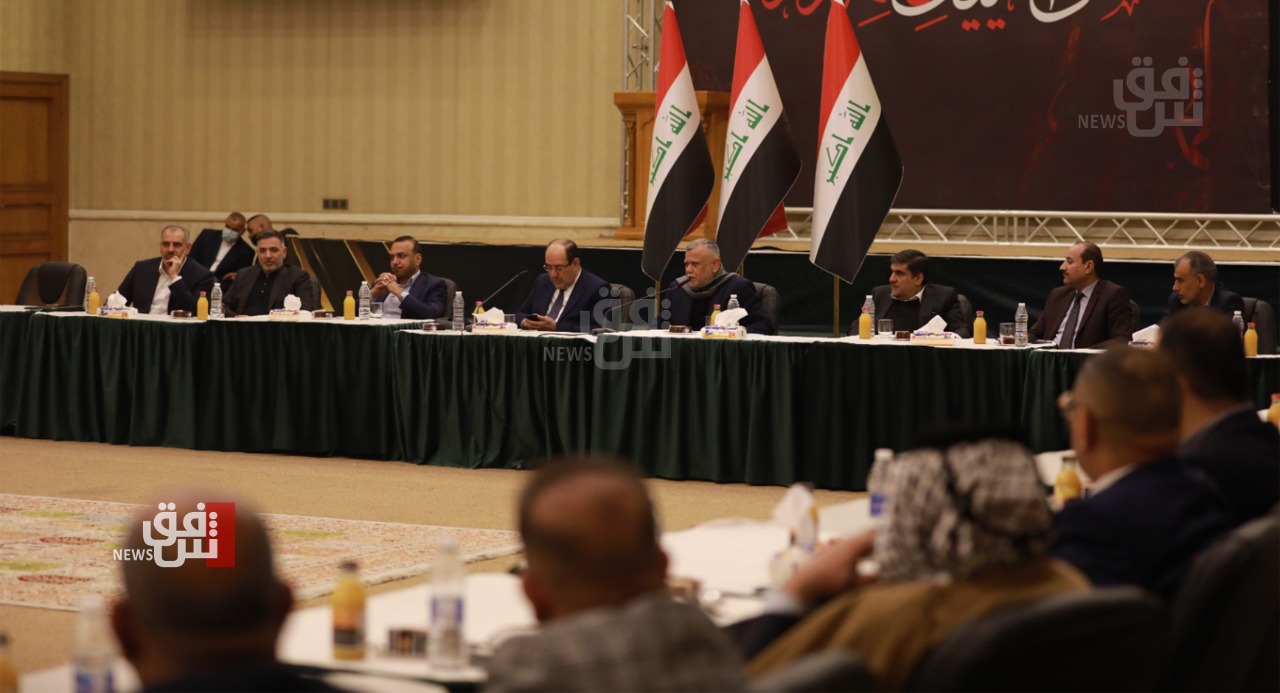 Shafaq News/ The coordination framework said, on Tuesday, that it will not participate in any parliament session before reaching an agreement with the leader of the Sadrist movement, Muqtada al-Sadr.
Ali Al-Zubaidi, a member of the Al-Fateh Alliance headed by Hadi Al-Amiri told Shafaq News Agency, "The Al-Fateh Alliance, one of the most important poles of the coordination framework, will not participate in any session or meeting of the House of Representatives before reaching a final agreement with the leader of the Sadrist movement, Muqtada Al-Sadr, to form the largest Shiite bloc."
He explained that "the framework is working to find appropriate solutions to end the state of political blockage, and there is an important meeting that will be held between the coordination framework and the Sovereignty Alliance after the end of the Eid holiday."
Al-Zubaidi revealed that "more than ten deputies from the Sovereignty Alliance withdrew from the latter and joined the coordination framework." He added, "Any disintegration in the Alliance to Save a Homeland will inevitably affect the digital equation, which will greatly change the rules of the political equation that control the Iraqi scene."
Alaa Al-Rikabi, head of the Alliance for the Parliamentary People, had submitted an official request to the parliament's presidency to hold an urgent session on Saturday, May 7, to discuss mechanisms for resolving the political blockage, proceeding with the formation of the government and approving the budget law.
In turn, the media office of the head of the State of Law coalition, Nuri al-Maliki, confirmed, on Tuesday, that the coordination framework and its allies did not attend the parliament session called for by the Alliance for the People bloc.
The director of the office, Hisham Al-Rikabi told Shafaq News Agency, "The coordination framework and the forces allied to it other than the Shiite forces will not participate in the parliament session unless the problem that stands in the way is solved in the sense of the coordination framework agreement with the Sadrist movement along with the unification of the Sunni house and its Kurdish example, and therefore it can be Going towards forming a government and ending the political blockage."
Al-Rikabi pointed out that "the coordinating framework is betting and even seeking to reunite the Shiite component in a harmonious way. So far, there are framework efforts to end the dispute between the most important Shiite parties, and these endeavors consist in making contacts with most political forces to end the current stagnation, and we will certainly find a way out of the blockage soon."
He continued, "The framework is in contact with the leaders of the second row with all political forces, including the Sadrist movement, and almost everyone is in agreement to end the dispute and unite the ranks, and we may soon witness a breakthrough with the agreement of all components to resolve the crisis."
shafaq.com