Al-Amiri's alliance: A step separates the announcement of a new alliance headed by Al-Maliki
Al-Amiri's alliance: A step separates the announcement of a new alliance headed by Al-Maliki
2022-02-21 07:47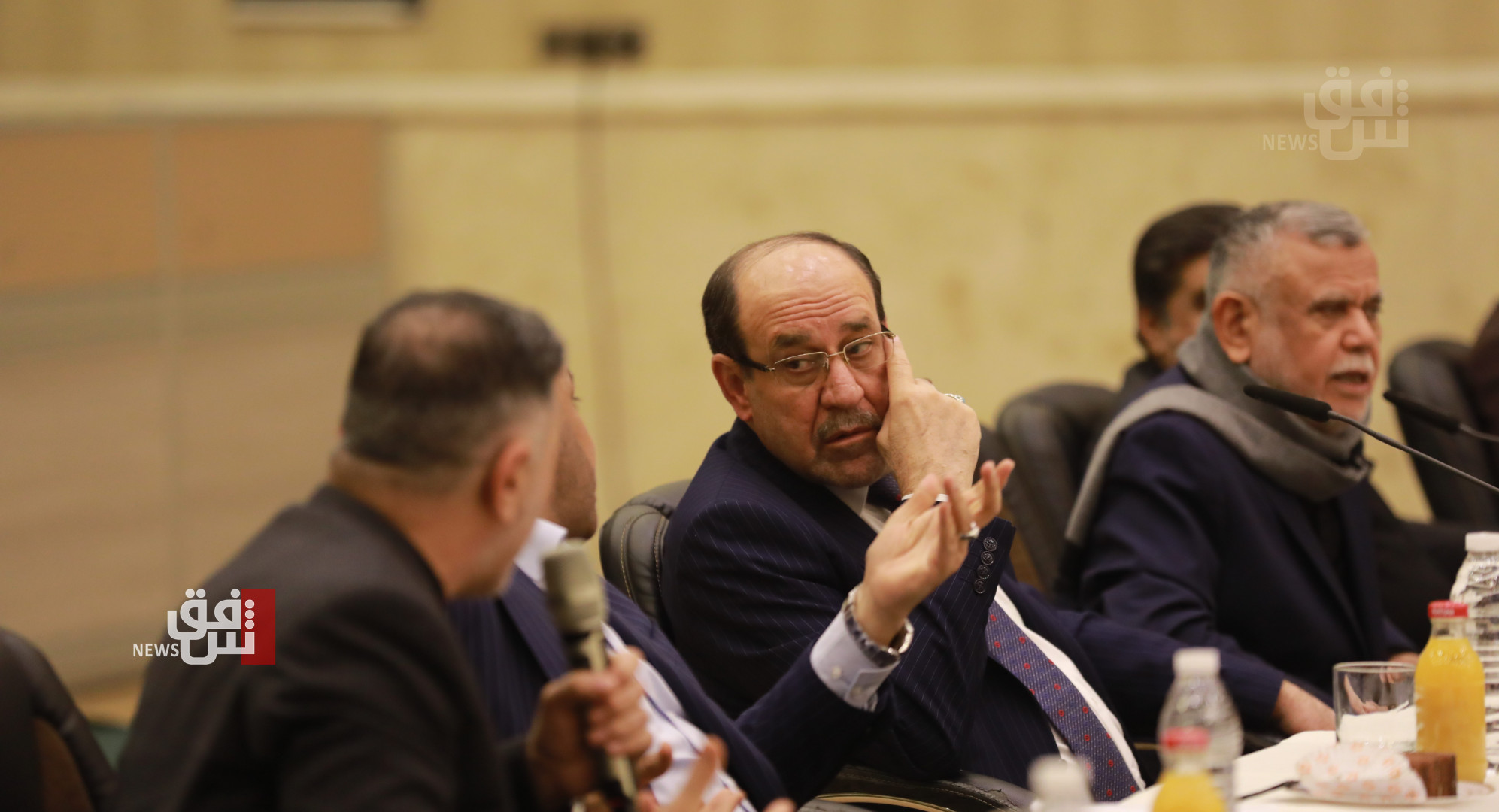 Shafaq News/ Al-Fateh Alliance led by Hadi Al-Amiri revealed on Sunday, the imminent announcement of a new political formation in the name of the "National Stability Alliance" led by Nuri Al-Maliki, which includes 133 deputies to form the largest bloc in Parliament, and indicated that the birth of the alliance or not depends on waiting for developments in the relationship with the Sadrists. He stressed that the coalition will include non-Shiite forces from outside the coordination framework.
A member of the coordination and leadership framework in the Al-Fateh Alliance, Aid Al-Hilali, told Shafaq News Agency that "in the event that all mediations and attempts to rearrange the united Shiite house fail and matters reach absolute political blockage, a new alliance will be announced that includes 133 deputies, who may form the largest bloc."
Al-Hilali added, "There were understandings between the framework and other forces outside the framework (Sunnis, Kurds and independents) to enter into a major strategic alliance under the name (National Stability Alliance) led by Nuri al-Maliki in an initial form."
The leader of the Al-Amiri coalition added, "It will be announced in a special conference," adding that "the announcement of the coalition has not yet been determined, pending developments and developments in the relationship between the coordination framework and the Sadrist movement led by Muqtada al-Sadr. The decisions of the Federal Court regarding the lawsuit submitted to challenge the decision of Parliament Speaker Muhammad al-Halbousi to reopen the nomination for the position of President of the Republic despite the end of the constitutional period and the closure of the nomination door.
Earlier today, a well-informed political source revealed, to Shafaq News, the launch of a new mediation expected between the Sadrist movement and the coordination framework to resolve the dispute between them, and while he indicated that the mediation will work to contain the dispute directly between the leaders of the movement, Muqtada al-Sadr and the State of Law coalition, Nuri al-Maliki, stressed The mediating party will be an Arab country neighboring Iraq, away from Iranian efforts in this regard.
The country is living in the midst of a crisis and continuous disagreement between the Sadrist movement that adheres to the option of the national majority to rule, and the coordination framework consisting of several Shiite parties demanding a consensual coalition government, in light of the desire of the leader of the Sadrist movement, Muqtada al-Sadr, to exclude the leader of the State of Law coalition, Nuri al-Maliki from participating in the new government and his slogan raised After all previous mediations that the next government "has a national, neither eastern nor western majority", according to al-Sadr's tweets.
shafaq.com