Barzani and Al-Maliki discuss the need to reconsider the system of government in Iraq
Barzani and Al-Maliki discuss the need to reconsider the system of government in Iraq
2021-12-22 07:34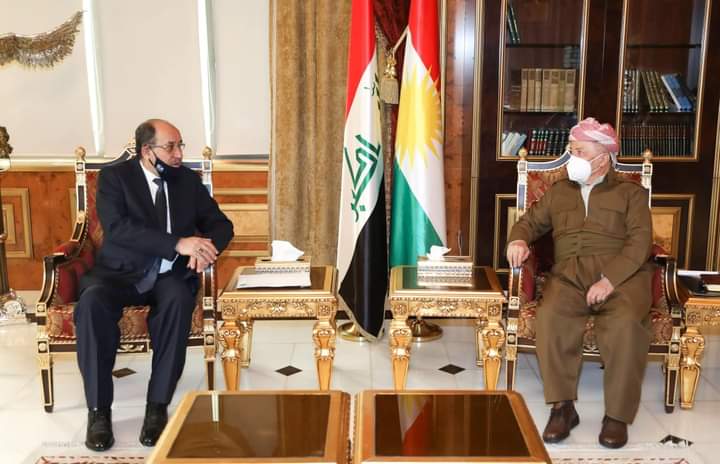 Shafaq News/ The Kurdish leader, Massoud Barzani, discussed today, Wednesday, with the head of the State of Law coalition, Nuri al-Maliki, the need to reconsider the system of government in Iraq, while they stressed the "principle of partnership, consensus and balance."
A statement issued by Barzani's office, received by Shafak News Agency, said that the latter received today, the head of the State of Law coalition, Nuri al-Maliki and his accompanying delegation, indicating that the two sides discussed some of the results of last October's elections and the developments of the political process in Iraq.
The statement indicated that the meeting highlighted the need to reconsider the system of governance in Iraq and benefit from previous experiences, stressing the consideration of the principle of partnership, consensus and balance in the governance process.
In another part of the meeting, the statement said that the two parties exchanged views on the challenges facing the future of Iraq, the issue of services and ISIS threats, the problem of the environment and water shortage, and the demands of citizens, and stressed the continuation of attempts to converge the parties' views and the merit of the components in order to find appropriate solutions for the next stage. And overcoming the challenges to forming the new Iraqi government.
The delegation of the Shiite Coordination Framework, headed by the leader of the State of Law coalition, Nuri al-Maliki, arrived this morning in Erbil, the capital of the Kurdistan Region.
Shafaq News Agency learned that the delegation headed immediately upon its arrival to the "Birmam" area to meet with Kurdish leader Massoud Barzani.
The spokesman for the State of Law coalition, Bahaa El-Din Nouri, told Shafaq News that the delegation's visit to Erbil comes to discuss the views between the coordination framework and the Kurdish forces.
According to the final results of the elections, the Sadrist bloc came first with 73 seats, followed by an alliance led by Muhammad al-Halbousi with 37 seats, followed by the State of Law coalition led by Mori al-Maliki with 33 seats, and then the Kurdistan Democratic Party with 31 seats.
The comprehensive coordination framework of the Shiite forces had held the first meeting (on the second Thursday of December) with the leader of the Sadrist movement, Muqtada al-Sadr, to discuss post-election options and ways to bring together the Shiite house, before forming the next government.
Al-Sadr had announced after the meeting his adherence to the option of forming a political majority government, which is rejected by the Shiite political forces opposed to him.
The coordination framework of the Shiite forces, which includes the Al-Fateh Alliance under its umbrella, had announced its rejection of the announced results, because of what he said that the commission did not deal seriously with the appeals submitted, stressing its adherence to the lawsuit submitted before the Federal Court to cancel the elections.
shafaq.com