The meeting of Shiite forces ended with several points.. Al-Sadr announces his adherence to forming a majority government
The meeting of Shiite forces ended with several points.. Al-Sadr announces his adherence to forming a majority government
2021-12-02 07:30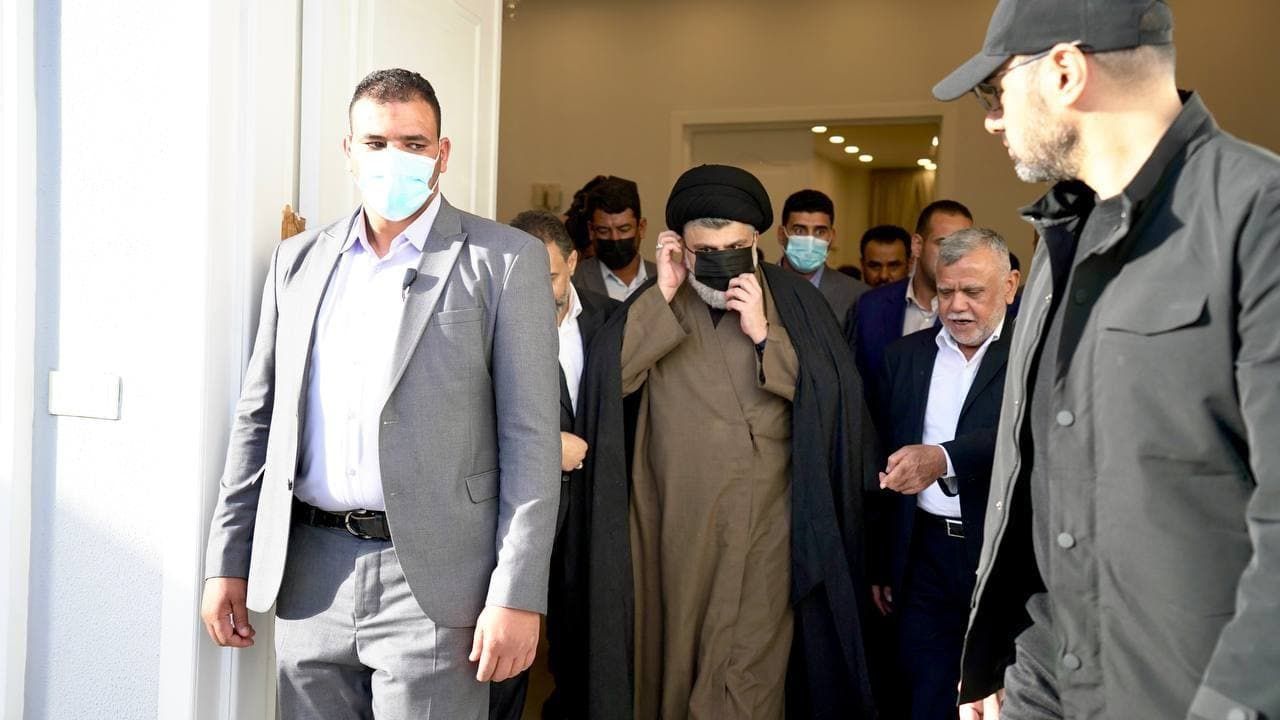 Shafaq News/ The Shiite coordination framework announced on Thursday, the axes of the meeting, which was held in the presence of the leader of the Sadrist movement, Muqtada al-Sadr, while the latter adhered to forming a national majority government.
A statement of the framework was received by Shafak News Agency; That "the leaders of the coordination framework received the leader of the Sadrist movement, His Eminence, Muqtada al-Sadr, at the house of Mr. Hadi al-Amiri, to discuss outstanding issues and the latest developments in the current situation, in order to strengthen the bonds of unity and brotherhood between the sons of the one nation and to serve the interests of the Iraqi people, which is a priority for all parties."
The statement added; The meeting discussed a number of main issues, including (taking the necessary practical steps to combat corruption, hold the corrupt accountable and stop the approved waste of public money), (emphasizing the exit of foreign forces according to the announced timetable and setting up mechanisms to ensure that weapons are confined to the hands of the state), and (protecting the Popular Mobilization Forces). Supporting and organizing it in a way that enhances its role in maintaining security in Iraq), (criminalizing normalization and everything related to it), (joint work to preserve the constants of the Iraqi people in confronting moral and social deviations in accordance with legal frameworks), and (working to raise the economic level of disadvantaged areas) And removing political competition from all service projects and removing the deprived from these areas).
The statement stressed that "the two parties agreed to continue dialogues and discussions, leading to the development of realistic solutions to the blockage in the political scene."
He pointed out that "the framework forces affirmed that they will continue their legal and public steps with regard to following up on the issue of the election results."
Meanwhile; The leader of the Sadr movement, Muqtada al-Sadr, tweeted on his Twitter account, reiterating his intention to form a national majority government.
Al-Sadr wrote: "Neither Eastern nor Western, a national majority government."
In turn, Hassan Al-Adhari, Al-Sadr's advisor, said in a publication that he summarized what the latter spoke during the meeting with the coordination framework.
Al-Adhari said that Al-Sadr stressed that "there must be a national majority government", and the formation of "a national majority government that does not agree on shareholding at all."
He added that al-Sadr "put all the points on the line in a frank discussion whose goal is the interest of Iraq and nothing else."
shafaq.com