An international company determines the cause of the electricity problem in Iraq and proposes a solution
An international company determines the cause of the electricity problem in Iraq and proposes a solution
2021-11-23 03:52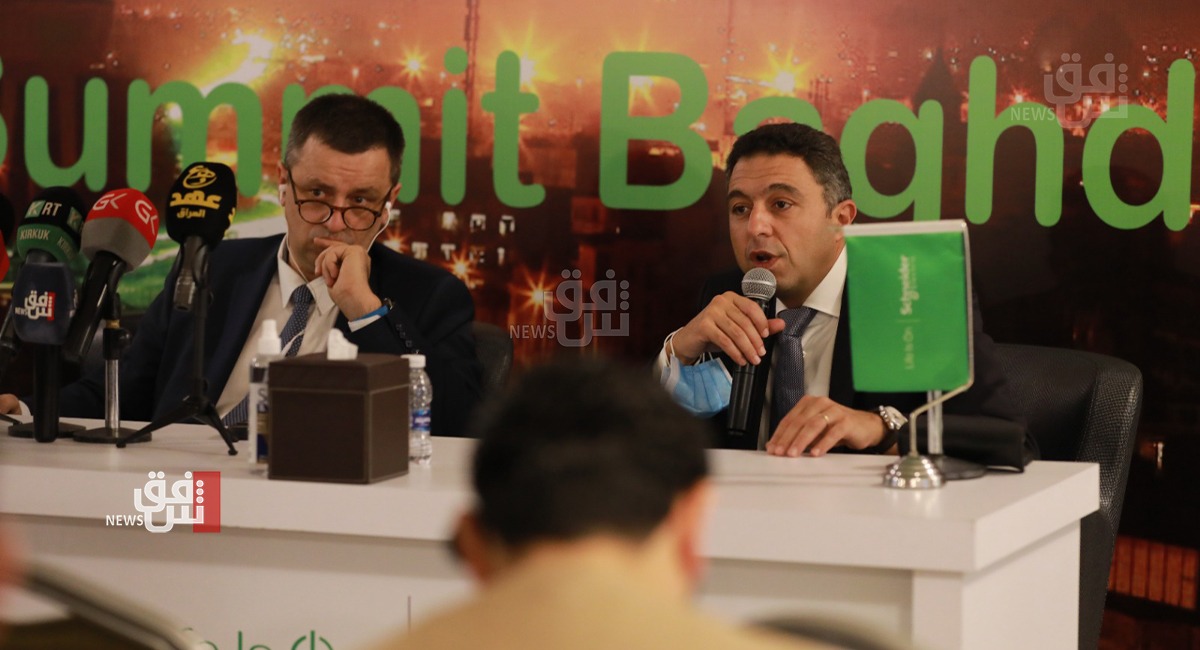 Shafaq News/ Schneider Electric Middle East and Africa revealed on Tuesday energy and internet projects in Iraq.
While she announced the implementation of dozens of electric power stations for the benefit of the federal government, she indicated that the cause of the electricity problem in the country is in the traditional production and distribution methods.
This came in the press conference of the Innovation Summit Baghdad 2021, in the presence of important figures from the various Iraqi ministries and the "Schneider Electric" company, in addition to many prominent personalities in Iraq and ambassadors of countries.
Walid Shati, director of Schneider Electric Company, Middle East and Africa, said in a press conference held at Babel Hotel and attended by Shafak News Agency correspondent, that "we have many projects in the field of electricity, internet and digital, and we support efforts, and there is a local team present in Erbil and Basra."
He added that "a company working in the field of gas and oil in the province of Basra and there are other projects to expand the discovery of oil. We have efforts in the electrical sector and the distribution of electricity more during the past year."
And he stated, "The company does not work on generating electricity, but rather contributes to its development, and we specialize in developing and bringing advanced technology."
He pointed out that "all parts of Iraq have become pivotal, and we have a history with local and international oil companies, and we have the competence to develop oil fields, and the program is to develop competencies to operate factories."
He pointed out that "the company has been in Iraq for 40 years, and they continue to build new stations, and there is a project that will last for three years, and we have more than 100 stations built for the Iraqi Ministry of Electricity."
He added, "The problem in Iraqi electricity lies in the traditional production and distribution methods, which are oil and gas," noting that "the new ways are wind, where renewable and clean energy will constitute about 80% of energy production in the coming years."
He added, "Distribution is the most difficult link in energy, close to consumption, and most of the problems are in distribution, which is the specialty in which the company operates."
for his part; Emra Takdemir, Schneider Country Manager for Iraq said; "Schneider advances technology that contributes to sustainable energy. We have examples to highlight. We have a lot of plants and reduced energy that's less fuel. Today, we hope to work with some understanding paper a year ago and work on developing the power distribution network."
Takdemir explained at the press conference; That "Schneider is known for its capabilities in the electricity sector and we contribute to the efficiency of infrastructure, and Iraq is working hard to go to technology."
He stressed that "the Iraqi and French government are working to invest in electricity projects, and that some stations were built from the budget of the Ministry of Electricity, and some of them are joint construction."
He pointed out that "the company owns thousands of Iraqi engineers and workers to work on projects in the fields of oil and energy, and it has trained 2,000 Iraqi engineers, and we own 4 licenses for production in Iraq to develop the mechanical sector."
In response to a question by Shafak News Agency correspondent; Takdemir said; "The company has been working on solar energy for 10 years, and for two years Iraq has an intention to build solar plants to generate electric power in Iraq, and the company can contribute and build secondary stations powered by solar energy and help Iraq in this aspect."
shafaq.com