Iraqi forces demand the president's intervention to spare the country "more dangerous" scenarios
Iraqi forces demand the president's intervention to spare the country "more dangerous" scenarios
10-25-2021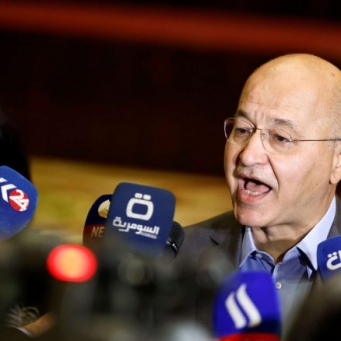 On Sunday, Iraqi political forces called on the President of the Republic, Barham Salih, to intervene to spare the country "more dangerous" scenarios, against the backdrop of the crisis in the results of the parliamentary elections that took place on October 10.
This came in a statement issued by the office of the leader of the "State of Law" coalition, Nuri al-Maliki, in the name of "the national forces objecting to the election results", after a meeting held at the coalition's office in the capital, Baghdad, without referring to the names of those forces or the participants in the meeting.
This is the first statement of its kind issued in the name of the "national forces objecting to the election results," but the majority of Shiite forces oppose the preliminary results, with the exception of the "Sadr bloc," which came first by obtaining 73 seats out of 329.
The statement said that "the attendees discussed the events and facts that prove the existence of a major defect in the announced results and the political and social tensions that led to it."
He explained that "the gathered forces agreed to confirm their rejection of the announced results and their rejection of the commission's selective method in dealing with legal challenges."
The forces also demanded, according to the statement, "to seriously consider all the appeals submitted to them and to conduct comprehensive manual counting and sorting for all stations with complete transparency and to correct the errors that accompanied the process of counting and announcing the votes."
The statement indicated that "the meeting called on the President of the Republic, Barham Salih, to intervene as a protector of the constitution to prevent events from heading towards something more dangerous."
Among the most prominent objectors to the election results is the "Al-Fateh" alliance, which is a political umbrella for influential Shiite factions linked to Iran, after losing many seats, in addition to the "state forces" coalition led by the leader of the wisdom movement Ammar al-Hakim and former Prime Minister Haider al-Abadi.
The Shiite forces objecting to the results had warned last week that proceeding with these results "threatens civil peace in the country," which raised fears of the possibility of an outbreak of internal fighting in the country.
According to the preliminary results, the "Sadr bloc" affiliated with Shiite leader Muqtada al-Sadr came first with 73 seats out of 329, while the "Progress" bloc, led by the dissolved Parliament Speaker Muhammad al-Halbousi (Sunni), won 38 seats, and in third place came the bloc of State of Law, led by former Prime Minister Nuri al-Maliki, won 34 seats.
rawabetcenter.com