The Sadrist movement resolves its position on the alliance with al-Maliki's coalition and recalls the emergence of ISIS in Iraq
The Sadrist movement resolves its position on the alliance with al-Maliki's coalition and recalls the emergence of ISIS in Iraq
2021-10-16 08:42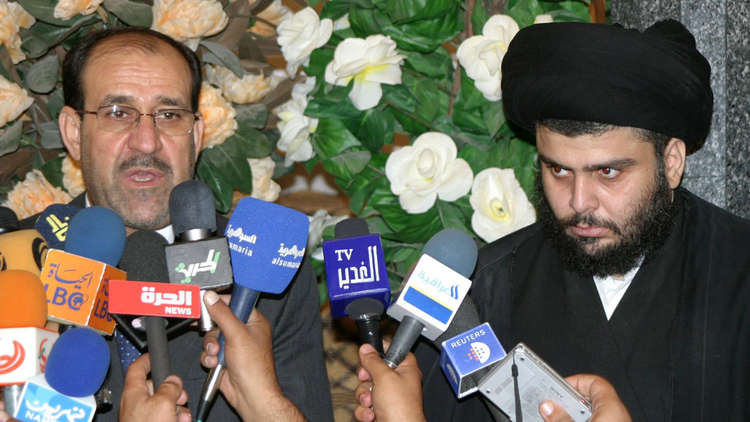 Shafaq News/ The Sadrist movement, led by Muqtada al-Sadr, ruled out today, Saturday, its alliance with the State of Law coalition, led by Nuri al-Maliki, for the purpose of forming the new Iraqi government.
The leader in the movement, Essam Hussein, told Shafaq News Agency, "The next stage will witness the formation of a coalition government, through the Alliance of the Mighty," noting that "this coalition will include the political forces that have won large and influential seats in Parliament, and we currently have understandings with many of these political forces.
He added, "All the winners of the early parliamentary elections are close to allying with us, except for the one who contravenes our project and has a power-building project, and for this the State of Law coalition is outside the accounts of the coalition with us," noting that "anyone who believes in the authoritarian State of Law coalition project is also far from us and will not He has no alliance with him.
The leader of the Sadrist movement said, "This project aims to seize power and practice intellectual terrorism, and this experience is very bad, and it was the most prominent reason for the emergence of the terrorist organization ISIS in Iraq, and therefore it is not possible to ally with such parties and have such projects."
According to the preliminary results, the "Sadr bloc" came first with more than 70 seats, followed by the "Progress" coalition headed by Muhammad al-Halbousi, Speaker of the dissolved Parliament, in second place among the electoral lists with 43 seats, and then the State of Law coalition led by former Prime Minister Nuri al-Maliki with 37. seat, followed by the Kurdistan Democratic Party with 32 seats.
Shiite factions and forces within the "Al-Fatah" coalition rejected the election results. It says that its pursuit would jeopardize civil peace in the country, which raises fears of a Shiite-Shiite conflict.
shafaq.com