Japan announces its support for Al-Kazemi's white paper and attends the Baghdad conference as an observer
Japan announces its support for Al-Kazemi's white paper and attends the Baghdad conference as an observer
2021-08-21 07:07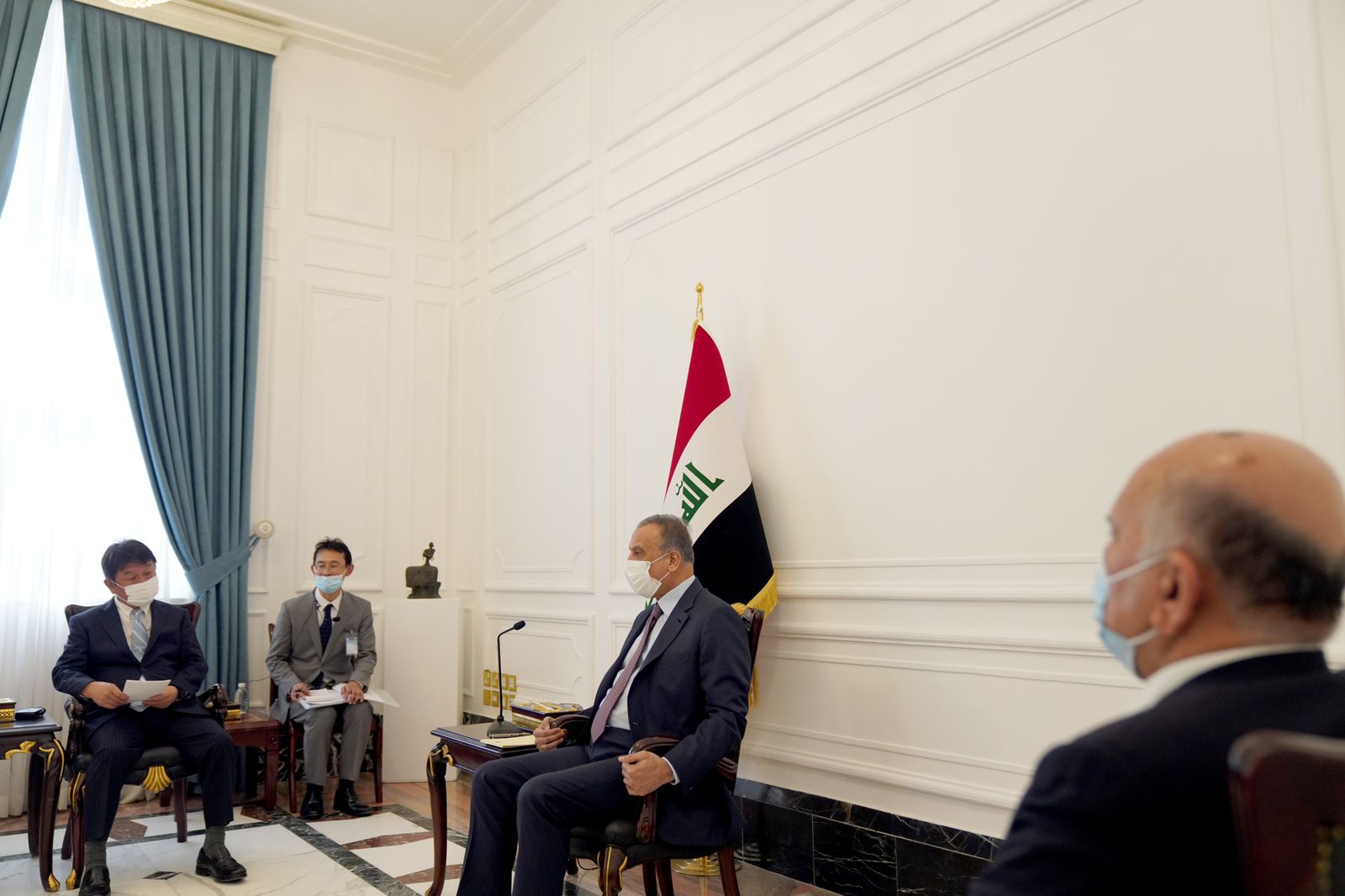 Shafaq News/ On Saturday, Iraqi Prime Minister Mustafa Al-Kazemi invited Japan to attend the Baghdad conference to be held at the end of this month as an observer, while the Japanese Foreign Minister expressed
On his country's readiness to support the implementation of the "white paper" for economic reform in Iraq.
Al-Kazemi's media office said in a statement received by Shafaq News Agency, that the latter received today, the Japanese Foreign Minister, Mr. Toshimitsu Motegi and his accompanying delegation, indicating that the two sides discussed ways to strengthen bilateral cooperation, intensify economic exchange, and joint coordination between the two countries.
The Prime Minister stressed, according to the statement, during the meeting the importance of the Japanese experience from an Iraqi perspective, and the relentless effort to benefit from it, stressing that the Iraqi arena has become open to Japanese investments in various fields, especially the fields of energy, oil, electricity, and alternative and renewable energies.
Al-Kazemi expressed his appreciation for the role played by Japan on regional issues, and praised the projects financed by Japan, in the areas liberated from terrorist gangs of ISIS through the path of establishing security and sustainable development in them.
The Prime Minister reiterated to the visiting delegation the invitation of Japan to attend, as an observer, the Baghdad Conference for Cooperation and Partnership, which Iraq will host at the end of this month.
For his part, the Japanese Foreign Minister, Mr. Toshimitsu Motegi, praised the Iraqi initiatives, which received a positive response at the regional and international levels, and considered them a pillar of consolidating security and stability in the region, and efforts to calm it down.
He expressed Japan's support for the government's economic reform program represented by the White Paper programs, and reiterated Japan's readiness to support the implementation of the White Paper, through the Economic Communication Group formed in late 2020.
The Japanese delegation confirmed that its country is continuing to provide aid and cooperation programs with Iraq in the field of combating terrorism, combating extremism, and confronting the Corona pandemic.
shafaq.com