Barzani talks about the new flag and anthem of Kurdistan represent the components of the region
Barzani talks about the new flag and anthem of Kurdistan represent the components of the region
Tuesday, August 22, 2017 at 16:55 pm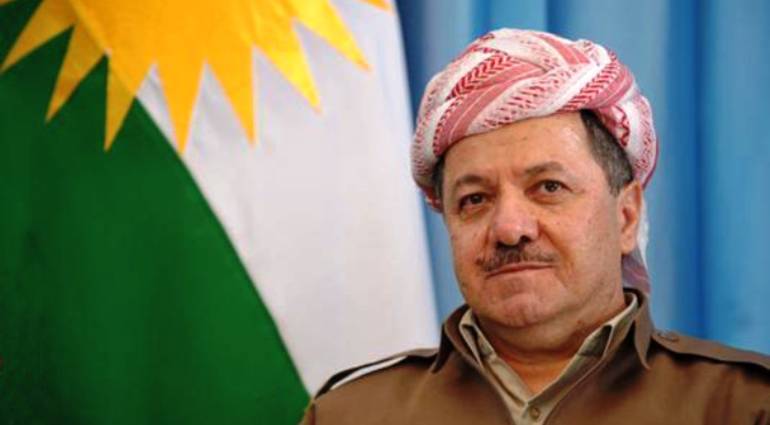 Baghdad / Sky Press:
The president of the Kurdistan region, Massoud Barzani, on Tuesday, written international guarantees to postpone the referendum on independence, stressing the impossibility of retreating from this step unless it gets, while referring to the need for new flag and anthem, representing the components of the region.
"The demands for the return of the Peshmerga to the borders of 2003 are unacceptable, and can not be subject to personal dilemmas," Barzani said in a meeting with minority representatives in the region. "A new constitution must be written to guarantee the rights of all components. The draft constitution for the independent Kurdistan, and we need a new national anthem, and changes in the flag of Kurdistan, to include symbols of the components and to be expressive of everyone.
He stressed that going to Baghdad was to inform her that "we will be good neighbors and can not postpone the referendum, we do not accept the language of threats from anyone, and four years ago we knew that Iraq is heading to slide."
In another meeting with senior leaders of the Peshmerga forces of the Kurdistan Democratic Party, Barzani spoke about the lack of doubt regarding the Kurdistan Khanaqin, Kirkuk, Sinjar, Makhmur and other areas covered by Article 140.
He added that "Baghdad did not implement the article until it came and called the division was actually, and to avoid the entry into battles and problems; we decided to hold the referendum independence, and without it deserves autonomy and federalism to sacrifice young Kurds for them."
Barzani himself held the responsibility of the referendum, stressing his willingness to pay for it if it falters or face problems.
The announcement of holding the referendum is opposed by regional countries that include millions of Kurds, fearing that the infection will spread to them as the Kurdish people are divided mainly among the four countries are Turkey, Iraq, Iran and Syria.
skypressiq.net