Maliki threatens Abadi using "influence" the army and the crowd to stop the "farce" demonstrations
Maliki threatens Abadi using "influence" the army and the crowd to stop the "farce" demonstrations
Views: 3192 Published on: 04/03/2016, 17:12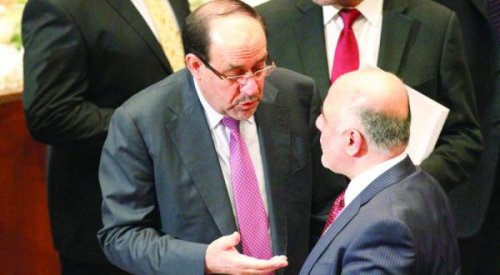 BAGHDAD / Hassan Shammari:
Description leader of a coalition of state law, Nuri al-Maliki on Saturday, the demonstrations as "farce", threatening Prime Minister Haider al-Abadi using his influence in the EP and the crowd to shut off.
A senior leader of the Dawa Party, in remarks seen by "Sky Press," that "al-Maliki said that he would use Alacatadth army and the crowd to stop the demonstrations, adding that
"This farce should not pass them the government."
Maliki has threatened, according to the leader of the Dawa Party, who requested anonymity, said: "If al-Abadi did not stop the demonstrations would I behave," noting that "the Prime Minister Haider al-Abadi, the following is what al-Maliki, under the guidance of Baghdad Operations Command to deal firmly with any breach ".
He noted leader of the Dawa Party, that "al-Maliki said, even the prime minister must be changed."
And announced that the Baghdad Operations Command on Friday, for the lack of any official approval for a demonstration near the opposite intersection to the gate of the General Secretariat of the Council of Ministers, and as pointed out "armed Thacdat" belonging to some of the followers of the Sadrist officials blamed them of responsibility for any security breach or damage to public and private property .
Tens of thousands, Friday, in front of the Green Zone in central Baghdad, to demand reforms in state institutions and combating corruption.
He called on Prime Minister Haider al-Abadi, on Friday, the protesters to adhere to public order and the protection of property to miss an opportunity to "phishers".
skypressiq.net