CBI: our actions do not target restriction
CBI: our actions do not target restriction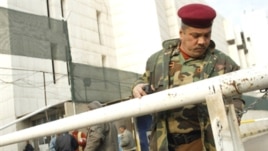 Confirms the Central Bank of Iraq that the procedures initiated by the application since the beginning of this month, and private dealers with auction to sell the U.S. dollar is the procedure for "auditing and regulatory and not restrictive."
In an interview with Radio Free Iraq, the Deputy Governor of the Bank Mazhar Mohammad Saleh said that these actions Almtl_khash that "the trader with the auction dollar of Iraqis exclusively who have the current account in a bank approved and that a trader in support of its bank facility instrument provided for the purchase of the currency, "is part of the application of the law against money laundering in 2004 and face the phenomenon of attack rates recorded by the auction since December 2011 last, which rose with the size of the daily demand for dollar 120 million to 420 million U.S. dollars, he would go mostly to finance the trade of Syria and Iran Alkhadotain to UN economic sanctions.
as between the benefit that the central bank "can not be imposed any restrictive measures that Iraq is committed to free trade and market economy Open means that the freedom of financial transfer is guaranteed for all is to be within the guidelines, "stressing that resulting from the application of regulatory recent rise in the price of the dollar against the dinar of 1180 dinars to 1220 per dollar" is in fact a bubble forming in the process of soon disappear under the power of the Iraqi currency and owned by the central cash reserves sufficient. " 
Economists have expressed their part for not convinced by what the central bank that the reason for the phenomenon of currency attack witnessed by the Bank auction is for the Iraqi private sector financing of all trade from Syria and Iran. 
In expressing this opinion, said professor of economics at the University Mustansiriya Abd al-Rahman al-Mashhadani, that "the real reason behind the phenomenon of rising demand for the dollar is the evacuation of U.S. forces from the country late last year, where she was funded by the local market portion considerable amount of currency the dollar through the payment of salaries large numbers of Iraqi contractors to work with them, let alone buy a lot of goods and services from local merchants, money goes to the whole banking companies and shops that the Iraqi dinar is the official currency trading in the market. "