Kuwaiti, Iraqi FMs discuss planned cooperation accords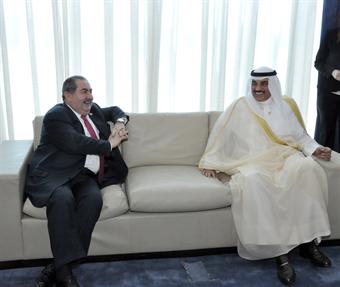 SHARM EL-SHEIKH, Egypt, May 9 (KUNA) — The foreign ministers of Kuwait and Iraq discussed on Wednesday prospected agreements for cooperation in security and oil and cultural sectors.
The talks between Kuwait's Deputy Prime Minister, Foreign Minister and Minister of State for Cabinet Affairs Sheikh Sabah Al-Khalid Al-Sabah and Iraqi Foreign Minister Hoshyar Zebari, were held at a meeting on the sidelines of the 17th ministerial meeting of the Non-Aligned Movement, currently hosted by the Egyptian resort of Sharm El-Sheikh.
In a statement to journalists after the meeting, Zebari said he reviewed with Sheikh Sabah Al-Khalid works of the Kuwaiti-Iraqi Ministerial Commission that has recently held a meeting in Baghdad.
The Iraqi minister added that he and the Kuwaiti official affirmed adherence to previously-signed accords and discussed a number of proposed accords, expected to be examined at the next meeting of the committee, such as those that tackle security and cultural cooperation, protection of investments, averting double taxation and cooperation at joint oil fields.
Zebari indicated that His Highness the Prime Minister of Kuwait, Sheikh Jaber Al-Mubarak Al-Hamad Al-Sabah, would pay a visit to Iraq by the year-end, noting that it would embody the good and brotherly ties bounding Kuwait and Iraq.
Separately, Sheikh Sabah Al-Khalid met with his Serb counterpart, Vuk Jeremic, discussing regional and international issues. The meeting was attended by several Kuwaiti officials and diplomats.
kuna.net