Sistani and Iran and America agree: Abadi remain in power and appoints new ministers
Sistani and Iran and America agree: Abadi remain in power and appoints new ministers
Published on: 06/04/2016, 18:41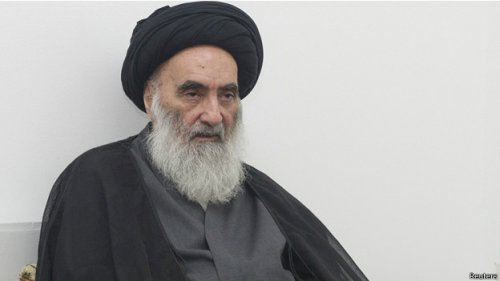 BAGHDAD / Hassan Shammari:
Sajjad stressed horses analyst provides advice to the Prime Minister Haider al-Abadi, on Wednesday, the US and Iranian religious cleric Ali al-Sistani had them all have the same opinion, "Abadi remain in power and appoints new ministers."
According to a report for "Middle East Online" and seen by "Sky Press", citing political sources said that "the two rivals break-ins, WA, and Tehran had put pressure on their allies in Iraq not to seek to remove Abadi at a time when trying to form a government of technocrats," adding that " US and Iranian efforts helped to bury the attempt last week to keep down Abadi carried out by al-Maliki, Secretary-General of the Dawa party, which controls about one-third of the seats in parliament. "
She added that "Joe Biden, the US vice president, Maj. Gen. Qassem Soleimani, commander of the Qods Force of the Iranian Revolutionary Guards in charge of protecting the interests of Iran abroad have already made it clear before the announcement of the new cabinet of the new Iraq that it should not make any attempt to remove al-Abadi in order to preserve the momentum in the war on organize Daash "..
The report cites politicians and analysts say that the "support of Sistani Ebadi has never wavered though he had disappointed when Prime Minister did not take decisive action."
A Western diplomat said that "the US efforts to ensure that the fall of al-Abadi was" vigorous "in the days leading up to Thursday's statement.
A senior US diplomat in Baghdad, told Reuters that there is a desire in the presence of a strong Iraqi government headed by al-Abadi can continue the war on the organization of the Islamic state.
Iran, quoted a similar message to Iraqi officials. A Shi'ite politician said Soleimani met with representatives of the owners and with Ammar al-Hakim, leader of SCIRI.
The horses "Both the Americans and the Iranians wanted to avoid displacement Abadi from office."
Sistani had decided in early February to stop talking about politics in the weekly sermon expressing their dissatisfaction with the slow pace of reform and to push al-Abadi to move.
skypressiq.net