Parliamentary mobility "intensive" to remove infallible from office!
Parliamentary mobility "intensive" to remove infallible from office!
Monday, September 11, 2017 at 14: 04 pm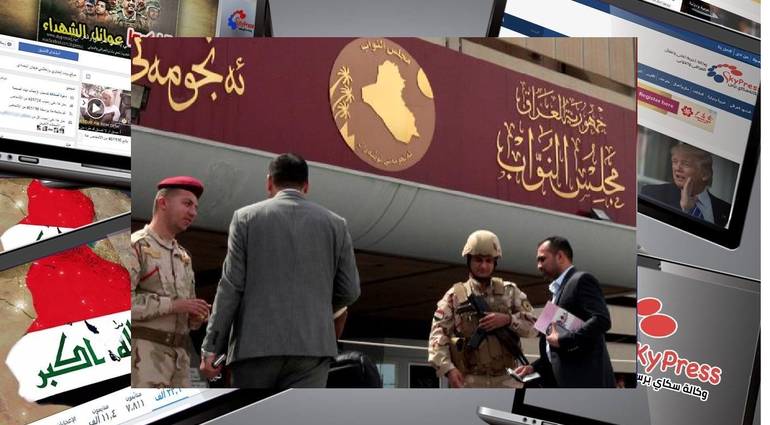 Baghdad / Sky Press
Revealed a deputy for the National Alliance, Tawfiq al-Kaabi, a massive movement in parliament to exempt President Fuad Masum from office if the Kurds carried out their decision to referendum.
"The insistence of the President of the Kurdish region Massoud Barzani to hold the referendum on the twenty-fifth of this September will push the parliament to cut the budget for the region and exempt the President of the Republic and the deputies and ministers of the Kurds from their posts and not allow them to continue in the cab Governmental organizations.
For his part, said the decision of the parliament Niazi, Myanmar, according to the newspaper, "The parliament will devote its next sessions to discuss the fate of Kurdish officials who hold government and parliamentary positions in the event of the implementation of the region's decision to referendum."
"The decision to exempt the governor of Kirkuk from his post will be discussed today in parliament on the proposal submitted by a number of Iraqi MPs on the background of the governor refused to remove the Kurdish flag from government buildings and not to recognize the decision of the Federal Court, which is the highest judicial body in Iraq.
"The parliament will discuss a proposal to dissolve the Kirkuk Provincial Council and declare a state of emergency in the city against the backdrop of political tension between the Kurdish Arabs and Turkmens, which may end with armed confrontations, especially that the forces of the popular crowd supported by Iranian advisers were stationed near the area of ​​Daqouk (30 km south of Kirkuk) ) In preparation for any emergency. "
President Fuad Masoum is conducting dialogues with influential figures in the National Alliance in order to thwart any attempt to vote for his removal from office, according to the Bahraini newspaper Al Khaliji. In this context, Masoom met with his deputy, Nuri al-Maliki, a lengthy meeting without revealing the office of the president details of the meeting, but close to al-Maliki indicated that the latter explained the infallibility of Tehran's seriousness in its rejection of the Kurdish referendum that the Iranian threats will not dissuade the Kurdish leadership from continuing to And that Barzani is aware of the magnitude of the challenges that will face the referendum, but took the necessary measures to address them.
skypressiq.net