Newspaper: chest will present its candidate for prime minister
Newspaper: chest will present its candidate for prime minister last minute and trying to pick his own Cabinet
Published on: 21-04-2016, 11:47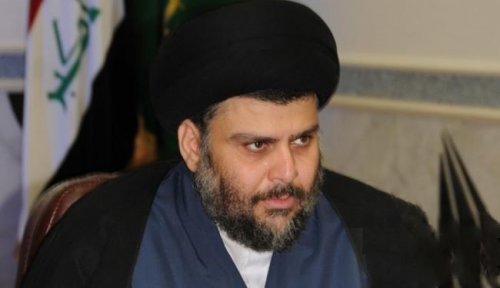 BAGHDAD / Hassan Shammari
It revealed the Lebanese Al-Akhbar newspaper, Thursday, for the pursuit of the cleric Muqtada al-Sadr to choose the line-up himself, pointing out that al-Sadr has a candidate for prime minister, he will present at the last minute, while confirming that Nouri al-Maliki and Iyad Allawi want to drop Abadi at any price.
According to a report of the newspaper seen by "Sky Press," that "emerged as an objective understanding between the three parties of the Sadrist movement, and Nuri al-Maliki and Ayad Allawi. Intersection circumstantial interests on abortion government-Abadi, each from his position," adding that "Muqtada al-Sadr does not mind Balebadi, but refuses his line. wants to choose his own line-up, although there are those who affirm that the released candidate for prime minister, he will present at the last minute. "
He explained that "Nuri al-Maliki wants to drop Abadi at any price.« Conspiracy »did not forget him on his sojourn his place at the head of the government, as well as of course, that he did not forgive him of his dismissal from his post as vice president does not attempt to remove him from the leadership of the Dawa party," adding, "The same applies to Ayad Allawi, who raised his dismissal from the post of vice president, and try Abadi trim his nails although he, as he claims, did not cause him any harm days. as well as of course all that Allawi, with the US to return to the Iraqi arena, believes that his fortunes have risen in the presidency the government".
The report, quoting people close to al-Maliki that "some MPs Sadr applied to the deputies of the affiliates of the former prime minister, a request for coordination. Asked at the time whether their lines that come with the knowledge of al-Sadr, the answer was that they did not dare to undertake any initiative without his consent."
People close and adds that "two or three days after,« chest hair, it seems, that al-Maliki Saktef the fruits of the parliamentary move, then began to issue statements attacking. "
The report notes that "al-Sadr took to the streets in full coordination with Ayad Allawi, who met with a delegation from the« block free »pectoris, on the eve of the protest in the« Green Zone, "explaining that" at this meeting «concluded charters and covenants» between the parties.
skypressiq.net