New information about Baghdadi .. changed shape and disappeared!
New information about Baghdadi .. changed shape and disappeared!
Sunday, 29 October 2017 at 18:49 PM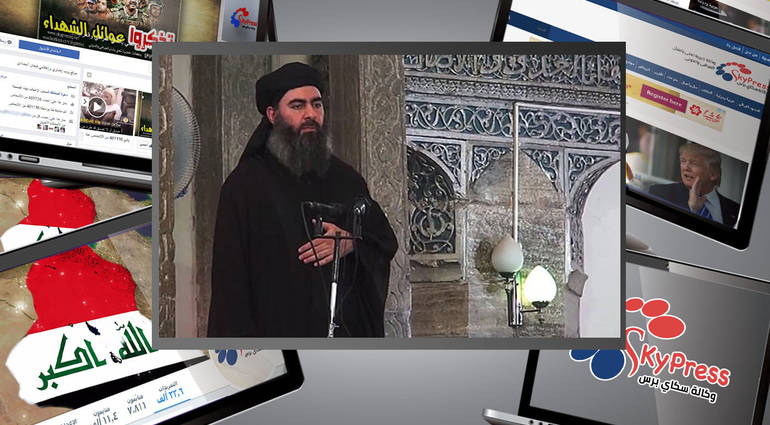 Baghdad / Sky Press
A local military official said on Sunday that Abu Bakr al-Baghdadi, the leader of the Daqash organization, was outside the control areas of his followers, pointing out that he had disappeared for years.
"Ibrahim Awad al-Badri, nicknamed" Abu Bakr al-Baghdadi, "may have emerged from the battle zones and confrontations in the Iraqi camp and Deir al-Zour, Syria to areas beyond the control of his followers, but in a disguised and undeclared" .
"The secret of not appearing for years is to make changes to his appearance that enable him to move freely without being identified," he said.
"To date, no place has been identified for the presence of Abu Bakr al-Baghdadi, despite the departure of al-Raqqa and several parts of Syria from the control of the organization and the liberation of Mosul, Tal Afar, Hawija and Aynah, and many areas were under their control."
The spokesman said that "it is unlikely to be al-Baghdadi in Qaim, being besieged for several months, but the issue of his presence in the remaining towns are weak, the fact that censorship is tight and bombing is continuing," noting that "reports, military experts and Iraqis in the International Coalition are likely to Al-Baghdadi is present in areas outside his control, and in disguise, after changing his appearance outwardly. "
"The hypothesis of his arrest is excluded, but the work is under way to locate him and kill him in any way," Li said, confirming the presence of a team of local Iraqi collaborators working to bring information and daily monitoring, and provide the coalition team and the Iraqi army intelligence.
skypressiq.net