King Salman ignores Obama upon his arrival in Riyadh
King Salman ignores Obama upon his arrival in Riyadh
Views: 2257 Published on: 21-04-2016, 12:35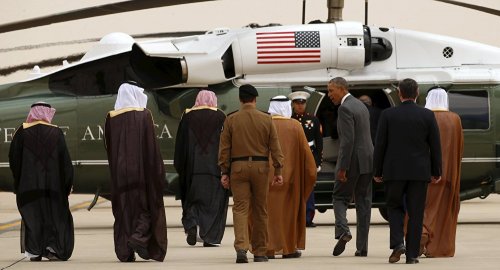 BAGHDAD / Sky Press:
US President Barack Obama has arrived in Riyadh, Saudi Arabia, to participate in the summit convened by the Gulf Cooperation Council (GCC). It was striking Obama greeted at the airport by Governor of Riyadh Faisal bin Bandar bin Abdul Aziz, the Saudi King while he was greeted by GCC leaders flocking to attend the summit.
Obama did not receive the same reception he received when he arrived to console the death of King Abdullah bin Abdul Aziz, in January 2015.
The network said "Q said that" (CNN) News Failure to receive Saudi King Salman bin Abdul Aziz, on Wednesday, US President Barack Obama, at Riyadh airport, after receiving Saudi Arabia's GCC summit leaders, at the airport, sparked a wave of controversy on networking sites social. He said that Saudi King Mgrdon Obama factor with contempt, in light of cooler relations between the allies because of the tension in the region, especially the US position on Iran, in addition to the low oil prices.
At the same time, the US official said that "the absence of King Salman reception upon arrival was not seen as an insult," adding that the US president rarely receives foreign leaders at the airport upon arrival in the United States.
skypressiq.net