Iraq, Kuwait sign MoU on maintaining border signs, financing Um Qasr housing complex
Iraq, Kuwait sign MoU on maintaining border signs, financing Um Qasr housing complex
5/29/13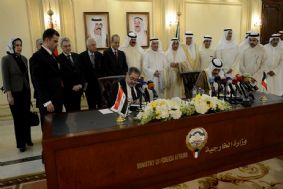 Baghdad (NINA) – Foreign Minister, Hoshyar Zebari, signed with Kuwait's Deputy Prime Minister and Foreign Minister, Sabah al-Khalid al-Hamad al-Sabah, two memos of understanding; the first is related to arrangements of maintenance of borders' demarcation signs, while the other is related to financing the construction of housing complex in Um Qasr.
A statement issued on Tuesday, May 28, by Kuwait's Ministry of Foreign Affairs said that Sabah al-Khalid al-Sabah met with Zebari discussing bilateral relations and positive developments in all fields, especially with regards to the related Security Council resolutions.
It added that the meeting reviewed future fields of cooperation and means to realize them, as well as review current political issues, regional, Arab and international.
Earlier in the day, the Emir of Kuwait, Sabah al-Ahmed al-Jaber al-Sabah, received Zebari, accompanied with a number of Iraqi officials; according the Kuwait News Agency (KUNA).
Zebari met also with Kuwait's Prime Minister, Jaber al-Mubarak al-Hamad al-Sabah, discussing means to consolidate bilateral relations.
Zebari arrived in Kuwait on Monday evening heading an official Iraqi delegation.
ninanews.com