Iraq and Turkey form joint committees to begin implementing the development road project
Iraq and Turkey form joint committees to begin implementing the development road project
2023-09-30 06:33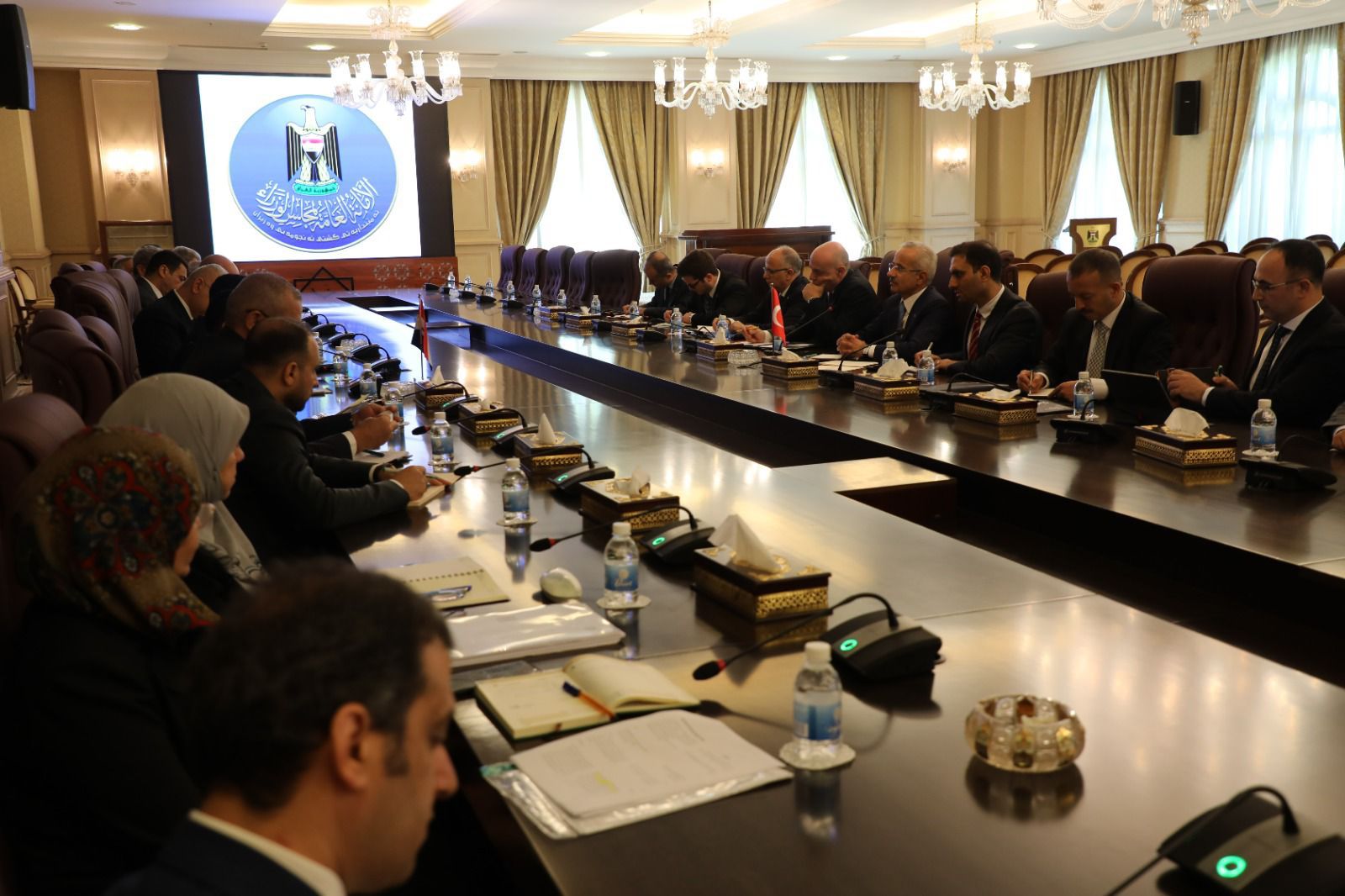 Shafaq News/ Today, Saturday, the Minister of Transport, Razzaq Muhaibas Al-Saadawi, held an expanded meeting in Baghdad, with the Turkish Minister of Transport and Infrastructure, Abdulkadir Oraloglu, and his accompanying delegation, to discuss the development road project.
Al-Saadawi said in a statement carried by the ministry's media office, "We discussed a number of issues related to the development road project with the Turkish Minister of Transport and Infrastructure," explaining that the meeting discussed the technical, legal and financial issues.
He added that the meeting, which was attended by high-level officials from both countries, also reviewed the economic model of the project and how to establish and operate its various projects.
Al-Saadawi confirmed that joint committees have been formed between Baghdad and Ankara to discuss technical, financial and legal issues, which will work to resolve any issues in order to begin work on implementing the project.
The two sides stressed, according to the statement, the importance of conducting field visits to land and railway connection points between the two countries.
For his part, the Turkish Minister of Transport and Infrastructure, Mr. Abdulkadir Oraloglu, began his speech during the meeting by offering condolences and sympathy to the Iraqi government and people over the Hamdaniyah incident, stressing his country's government's support and support for Iraq, and its full readiness to provide any assistance that strengthens the relationship and cooperation between the two countries.
Oglu reviewed the volume of trade exchange between Baghdad and Ankara, noting that transport corridors are increasing day after day around the world.
He added that "the development path will be the gold medalist among those paths," pointing out that "the Turkish government worked to form a coordination council with a number of European countries regarding the development path, and therefore we hope that there will be another coordination council that includes Iraq and the countries of the region."
It is noteworthy that the value of the development road project is estimated at 17 billion dollars to connect an important port, "Al-Faw Grand Port," for goods on the southern Iraqi coast to the border with Turkey by extending a railway and road network.
The development road aims to link the port of Al-Faw in southern Iraq, which is rich in oil, with Turkey, turning the country into a transit center by shortening travel time between Asia and Europe in an attempt to compete with the Suez Canal.
The Iraqi government envisions high-speed trains transporting goods and passengers at speeds of up to 300 kilometers per hour, in addition to extending lines to local industrial and energy centers, which could include oil and gas pipelines.
According to the plans, the main transportation roads will be linked to the main port of Al-Faw on the shores of the Gulf through modernizing and building more than 1.2 thousand kilometers of railways and highways linking Iraq to neighboring countries.
shafaq.com