Iraq .. Al-Sudani asks Parliament for a session to vote on the formation of the government
Iraq .. Al-Sudani asks Parliament for a session to vote on the formation of the government
10-26-2022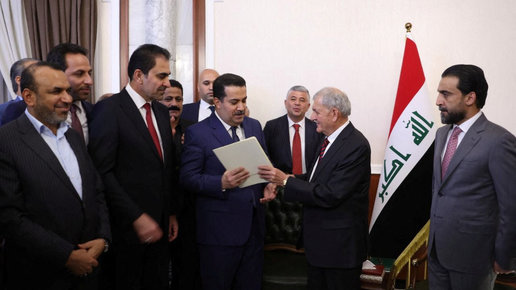 The Iraqi Prime Minister-designate, Muhammad Shia Al-Sudani, requested a parliament session, next Thursday, to present his government program and cabinet for a vote, according to an official letter that Al-Hurra obtained a copy of on Tuesday.
The book entitled to the Presidency of Parliament indicates that Al-Sudani sent his ministerial curriculum (the government program) to the Presidency of the House of Representatives, but he has not yet sent, it seems, the names of his proposed members of his government so far.
In the event of a vote on Al-Sudani and his government, the tasks of the outgoing government, which is currently headed by Mustafa Al-Kazemi, will officially end, a year after the early elections, and three years after the start of the demonstrations that brought down the government of Adel Abdul-Mahdi.
Al-Sudani was assigned to form the government on the thirteenth of this October, after bitter conflicts that developed into clashes between the competing forces to form the government, and a delay that led to a deep political blockage in the country.
rawabetcenter.com