Allawi proposes an initiative to solve the crisis of Kurdistan
Allawi proposes an initiative to solve the crisis of Kurdistan
Monday, September 25, 2017 at 16:55 pm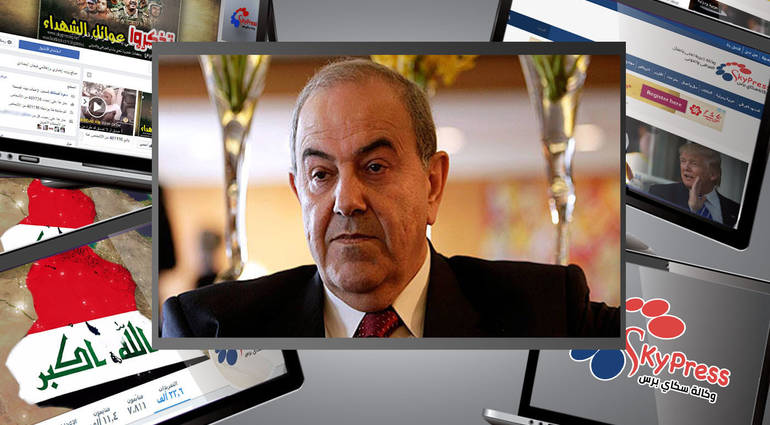 Baghdad / Sky Press
Appealed to the President of the National Coalition, "Iyad Allawi," Monday, the President of the Kurdistan region, "Massoud Barzani," to freeze the results of the referendum and to address the issue of Kirkuk by responding to all components, and warned those trying to fuel strife and fragmentation, as he put it.
"The fate of Kirkuk and the disputed areas must be subject to the provisions of Article 140 of the Constitution, and the breaches should be addressed in a way that deepens national participation and responds to the interests of all segments of the society and extinguishes the foment of sedition between them," Allawi told a news conference, .
He added that "the forces of the National Alliance and the Kurds not to escalate and confrontation, but against the urging of all and start negotiations to liquidate the quotas of national and sectarian," warning regional states not to interfere in internal affairs, "He said the coalitions participating in power to begin constructive dialogues constructive over the coming weeks To begin to take all necessary to eliminate the discriminatory and economic manifestations and the monopoly of governance. "
While refusing to "separate the National Alliance in dialogue with the Kurds," he called for "the formation of a national committee to carry out this task."
He stressed "not to distract the energy of the Iraqi security forces, and focus their efforts on the frontline with the preachers and restore the remaining areas that are still under his control."
The voice of the people of the Kurdistan region in the referendum on the secession of the region from Iraq, amid the rejection of local and international.
skypressiq.net