Al-Sudani announces dialogues to determine cooperation with the international coalition: We do not need foreign combat forces
Al-Sudani announces dialogues to determine cooperation with the international coalition: We do not need foreign combat forces
2023-08-14 02:33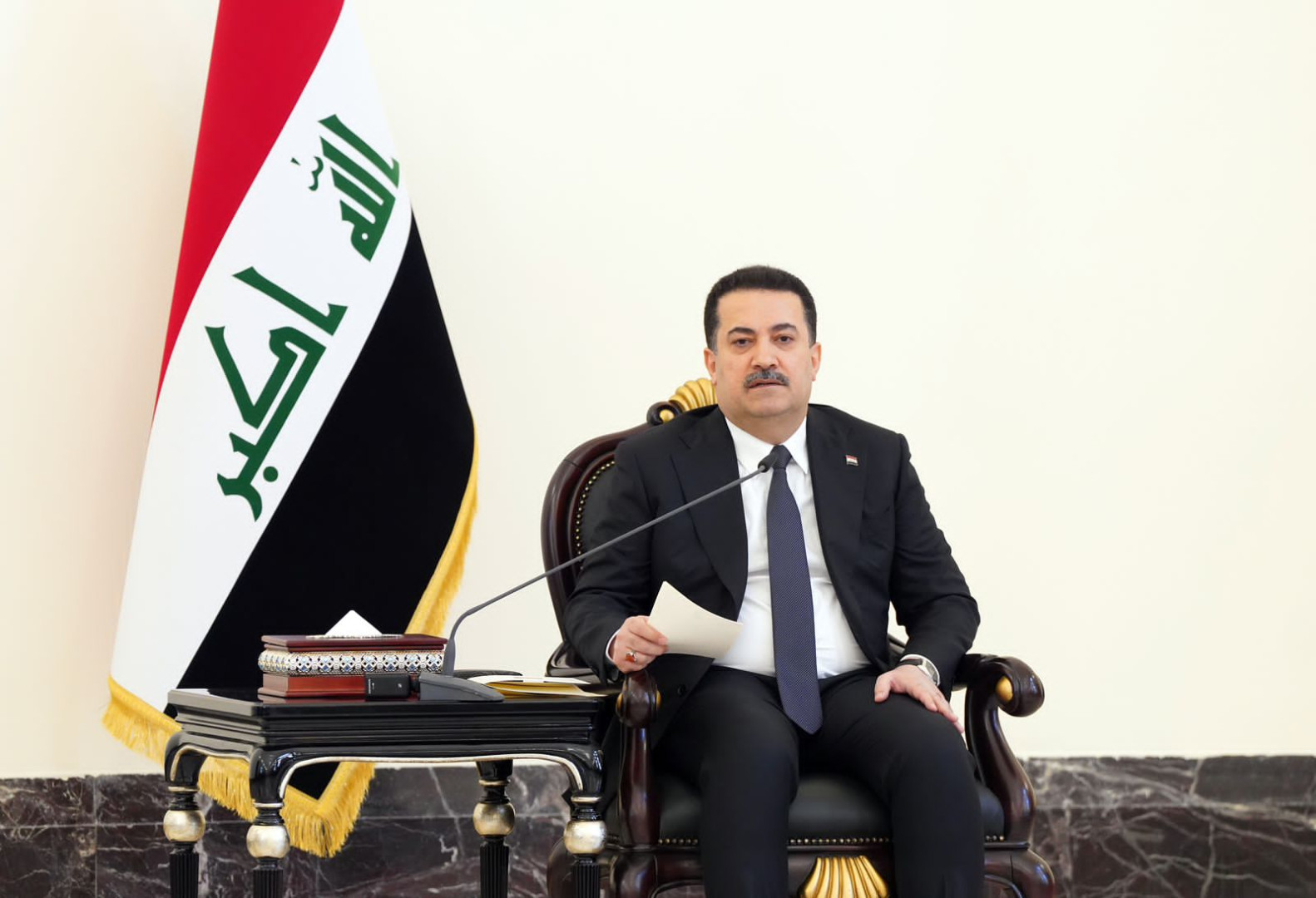 Shafaq News/ The Commander-in-Chief of the Armed Forces, Prime Minister Muhammad Shia' al-Sudani announced, on Monday, advanced dialogues to determine the form of future relationship and cooperation with the international coalition led by the United States of America, stressing that there is no need for foreign combat forces.
This came during his meeting with a number of leaders and commanders of the armed forces who participated in achieving victory over the terrorist organization ISIS, and liberating Nineveh Governorate, which fell under its hegemony, according to a statement received by Shafaq News Agency.
The Commander-in-Chief of the Armed Forces reaffirmed the Armed Forces' commitment to their professional, constitutional and legal path, within the process of development, consolidation of security and civil peace, and the protection of a decent life for all our Iraqi people throughout the country.
Al-Sudani said, "The liberation of Mosul is one of the important battles, at a time when everyone expected that the matter would be settled in favor of the mythical state and the end of the state of Iraq." targeting countries in the region.
He pointed out that "the deviant ideology of ISIS, which was planned in closed circles, was intended to prevail in the region," noting that "the standing of the religious reference represented by Sayyid Ali al-Sistani, and the sacrifices of the Iraqis, aborted the plot of ISIS."
And the Prime Minister continued, "Our battle with this terrorist group was a battle between truth and falsehood, and here we remember the saying of the Commander of the Faithful (know the truth and know its people), and the world knew that the Iraqis are the truth because ISIS is the absolute falsehood."
And he called for "preserving the work of the security establishment and its professional path in accordance with the law and the constitution, which is a commitment of all political forces, and within the political agreement under which this government was formed, and the House of Representatives voted on it."
He stressed that "Iraq today does not need foreign combat forces, and we are conducting advanced dialogues in order to determine the form of future relationship and cooperation with the international coalition."
He pointed out that "the Iraqis have become, after the liberation battles, more united than ever before, after the sectarian violence and division prevailed after the years of change."
Al-Sudani stressed "reviewing all plans and preparations and remaining at this level of readiness required for any movement that the terrorist organization may resort to, which is trying to restore life to its ranks," adding, "Today we are facing the battle of stability, development and prosperity, which is not an easy task."
The prime minister recommended the commanders and commanders of the armed forces to "the families of the martyrs, and strive to follow up on their affairs, which is a legitimate and moral mission, and an important message to all officials, starting with the speaker," and he also recommended them to "the affiliate," saying, "The smallest military rank is the most important stone in the institution security, which is an important precursor to achieving victory and sustaining security."
He pointed out that "the sustainability of security and stability are political and social goals for the citizen and the government," noting that "construction and development needs to maintain stability and extend the law, which is the environment that citizens and state institutions await to implement plans and policies in the field of development and services."
shafaq.com